ASME B16.11 Sweepolet Fitting Manufacturers and Suppliers :
Sweepolet is a type of pipe fitting used in piping systems for branching pipelines. It is a variation of the standard Olet fitting, which is designed to create a branch connection at a 90-degree angle to the main pipe run.
ISO Approved ASME/ANSI B16.11 Sweepolet Manufacturer In India, ASME B31.3 Sweepolet Fittings, MSS SP-97 Sweepolet Dimensions Chart, Tolerances, Weight Chart, Thickness Chart, Cad Drawing​
The Sweepolet is designed to create a branch connection at a 45-degree angle to the main pipe run, allowing for a more gradual change in direction of the flow. This reduces the risk of turbulence and pressure drops in the system, which can result in damage to the pipes and equipment.
The dimensions of a Sweepolet depend on the size of the main pipe run and the size of the branch pipe. They are typically available in a range of sizes to accommodate different pipe diameters and wall thicknesses.
The standard for Sweepolets is defined by the MSS SP 97 specification, which outlines the requirements for manufacturing, testing, and inspection of these fittings. This standard ensures that Sweepolets meet the necessary quality and safety standards for use in piping systems.
We have the ready inventory of Sweepolet Fitting in the different size ranges of 1 Inch, 2 Inch, 7/8 Emt, 3 Inch, 4 Inch, 6 Inch Sweepolets.
Sweepolet Fitting
Standard Specifications
Standards
ASME B31.3, B31.1, B31.8, B31.4, ASME/ANSI B16.11, MSS-SP-97
Thickness
SCH 5S, SCH 10S, SCH 40S, SCH 80S, SCH 120S
Dimensions
ASME B31.3,1,8,4 | ASME/ANSI B16.11 | MSS-SP-97 | JIS B2316 | BS 3799
Class
6000LBS, 3000LBS, 9000LBS
Schedule 40 & Schedule 80 Sweepolet in Stainless Steel 304/304L, SS 316/316L, SS 904L, Alloy 20, Carbon A234 WPB, Nickel 200, Monel, Inconel, Hastelloy C22, Duplex Steel 2205, Titanium, Copper Nickel, SMO 254, Aluminum, Brass, Cast Iron, Galvanized, MS Sweepolet. Get best Price List.​
ASME B16.11 Outlet Fittings
Types
If you are looking for ASME B16.11 Olets Fittings types, weight chart, size chart, tolerance, and dimensions with drawings then kindly click the below-mentioned forms of pipe fittings as per your requirements to get the complete details. For the quick quote / price list click here.
ASME B16.11 Sweepolet
Material Grades
| | |
| --- | --- |
| Stainless Steel Sweepolet : | ASTM A182/SA182 WP Gr. 304, 304L, 304H, 310, 310S, 316, 316L, 316H, 316Ti, 317, 317L, 321, 321H, 347, 347H, 446, 904L |
| Carbon Steel Sweepolet : | ASTM A105/SA105, ASTM A694/SA694, Gr. F42/46/52/56/60/65/70 |
| Low Temperature Carbon Steel Sweepolet : | ASTM A350 LF3/A350 LF2 |
| Alloy Steel Sweepolet : | ASTM A182/SA182 F1/F5/F9/F11/F22/F91 |
| Duplex & Super Duplex Sweepolet : | ASTM A182, ASME SA182 F 44, F 45, F51, F 53, F 55, F 60, F 61. |
| Nickel Alloy Sweepolet : | ASTM / ASME SB 564 / 160 / 472 UNS 2200 ( NICKEL 200 ), UNS 2201 (NICKEL 201 ), UNS 4400 (MONEL 400 ), UNS 8020 ( ALLOY 20 / 20 CB 3, UND 8825 INCONEL (825), UNS 6600 (INCONEL 600 ), UNS 6601 ( INCONEL 601 ), UNS 6625 (INCONEL 625), UNS 10276 ( HASTELLOY C276 ), Cupro Nickel 90/10 ( C70600, 2.0872 ), 70/30 ( C71500, 2.0882) |
| Other Steel Sweepolet : | ASTM B363 Titanium Grade 2 ( R50400, 3.7035 ), Titanium Grade 2 ( N56400, 3.7165 ), ASTM A403 SMO 254/AL-6XN ( S31254, 1.4547 ), AISI 4130 ( G41300, 1.7218 ) |
ASME B16.11 Sweepolet
Dimensions Chart
ASME B16.11 Sweepolet - Dimensions Chart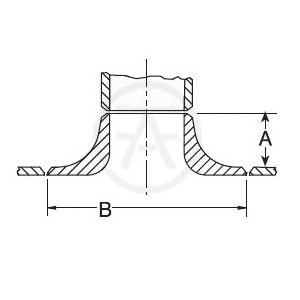 Dimensions of Sweepolet ( ANSI, FCS (IN))
| Run Size (NPS) | Outlet Size (NPS) | A | B |
| --- | --- | --- | --- |
| 6 to 36 | 1 1/4 | 1 1/4 | 4 |
| 6 to 36 | 1 1/2 | 1 3/4 | 5 1/2 |
| 6 to 36 | 2 | 1 1/2 | 5 1/2 |
| 6 to 36 | 3 | 1 21/32 | 7 |
| 6 to 36 | 4 | 2 1/32 | 8 3/4 |
| 10 to 36 | 6 | 2 11/16 | 13 |
| 12 to 36 | 8 | 3 | 15 |
| 16 to 36 | 10 | 3 1/8 | 18 1/2 |
| 16 to 36 | 12 | 3 5/16 | 20 1/2 |
| 20 to 36 | 14 | 3 5/8 | 24 |
| 24 to 36 | 16 | 3 3/4 | 28 |
| 24 to 36 | 18 | 4 5/8 | 31 |
| 24 to 36 | 20 | 5 1/8 | 33 |
| 30 to 36 | 24 | 5 5/8 | 38 |
MSS SP-97 Sweepolet
Applications
Myanmar, Nepal, Thailand, Vietnam, Philippines, Malaysia, Indonesia,
Singapore, Taiwan, Tasmania, Sri Lanka, Bangladesh, Bhutan, Cambodia,
Australia, New Zealand, Afghanistan, Tajikistan, Kyrgyzstan, Kazakhstan,
Uzbekistan, Turkmenistan, Iran, United Arab Emirates(UAE), Saudi Arabia,
Oman, Yemen, Iraq, Azerbaijan, Turkiye, Syria, Lebanon, Israel, Kenya,
Egypt, South Sudan, Eritrea, Djibouti, Ethiopia, Libya, Rwanda, Mali,
Niger, Chad, Central Africa Republic, Nigeria, Cameroon, Somalia, DRC,
Uganda, Tanzania, Angola, Zambia, Madagascar, Malawi, Namibia, Benin,
Zimbabwe, Botswana, Lesotho, South Africa, Algeria, Tunisia, Morocco,
Eswatini, Liberia, Sierra Leone, The Gambia, Senegal, Mozambique, Togo,
Mauritania, Burkina Faso, Ghana, Equatorial Guinea, Jordan, Timor-Leste,
Palestine, Laos, Armenia, Georgia, Maldives, Cyprus, Kuwait, Qatar, Peru,
Bahrain, Brunei, Finland, France, Germany, Ireland, Iceland, UK, US,
Greece, Hungary, Italy, Norway, Poland, Slovakia, Sweden, Canada, Fiji,
Romania, Cuba, Panama, Brazil, Colombia, Chile, Argentina, Venezuela,
Naypyidaw, Kathmandu, Bangkok, Hanoi, Manila, Kuala Lumpur, Jakarta, Tunis,
Jurong East, Taipei City, Hobart, Sri Jayawardenepura Kotte, Dhaka, Thimphu,
Phnom Penh, Canberra, Wellington, Kabul, Dushanbe, Bishkek, Astana, Abuja,
Tashkent, Ashgabat, Tehran, Abu Dhabi, Riyadh, Muscat, Sana'a, Baghdad, Pretoria,
Baku, Ankara, Damascus, Beirut, Jerusalem, Nairobi, Cairo, Juba, Asmara, Rabat,
Djibouti city, Addis Ababa, Tripoli, Kigali, Bamako, Niamey, N'Djamena, Bangui,
Yaoundé, Mogadishu, Kinshasa, Kampala, Dodoma, Luanda, Lusaka, Antananarivo,
Lilongwe, Windhoek, Porto-Novo, Harare, Gaborone, Maseru, Cape Town, Bloemfontein,
Algiers, Mbabane, Lobamba, Monrovia, Freetown, Banjul, Dakar, Maputo, Lomé, Dili,
Nouakchott, Ouagadougou, Accra, Malabo, Amman, Vientiane, Yerevan, Tbilisi, Rome,
Malé, Nicosia, Kuwait City, Doha, Lima, Manama, Bandar Seri Begawan, Paris,
Helsinki, Berlin, Dublin, Reykjavík, London, Washington D.C., Athens, Budapest,
Oslo, Warsaw, Bratislava, Stockholm, Ottawa, Suva, Bucharest, Havana, Panama City,
Brasília, Bogotá, Santiago, Buenos Aires, Caracas, Mumabi, Chennai, Bengaluru,
Kolkata, Hyderabad, Pune, Ahmedabad, Jaipur, Surat, Visakhapatnam, Indore, New Delhi
Lucknow, Nagpur, Kochi, Kanpur, Guwahati, Coimbatore, Noida, Ghaziabad, Patna