Nickel Alloy 90 Degree Elbow Manufacturers and Suppliers:
High nickel alloys are commonly used in applications where high temperature, corrosion resistance, and/or high strength are required. High nickel alloys elbows are pipe fittings that are made from these materials and are commonly used in piping systems that transport fluids or gases.
High nickel alloys elbows can be manufactured in various shapes and sizes, including 90-degree elbows, 45-degree elbows, and custom bends. High nickel alloys elbows can be welded, threaded, or flanged to connect to other piping components.
ISO Approved Hastelloy 45 Degree Elbow Manufacturer In India, Inconel Seamless Elbow, Monel Short Radius 90 Degree Elbow, Copper Nickel seamless elbow, Inconel 600 45° Long Radius Elbow, Hastelloy C22 180° Long Radius Elbow Dimensions Chart, Tolerances, Weight Chart​
High nickel alloys elbows are ideal for use in harsh environments, such as in chemical processing, power generation, and oil and gas industries, where they can withstand high temperatures, corrosion, and erosion. These materials can also be used in cryogenic applications due to their low thermal expansion coefficient.
The most commonly used high nickel alloys for elbows are Inconel, Monel, Hastelloy, and Nickel 200. These materials have high strength, excellent corrosion resistance, and good thermal stability, making them ideal for use in demanding applications.
When selecting a high nickel alloys elbow, it is important to consider factors such as temperature, pressure, fluid composition, and operating conditions. It is also important to ensure that the elbow meets industry standards and specifications to ensure its safe and reliable performance.
We have the ready inventory of High Nickel Alloys Elbow in the different size ranges of 2 Inch, 3 Inch, 3.5 Inch, 5 Inch, 6 Inch, 7 Inch, 8 Inch, 9 Inch SR and LR Elbows.
High Nickel Alloys Elbow
Standard Specifications
Standards
ASTM B366/ ASME SB366, ANSI / ASME B16.9, MSS SP-43, API 590-605
Thickness
SCH10, SCH 20, SCH30, STD SCH40, SCH80, SCH60, XS, SCH100, SCH 120, SCH140, SCH 160, XXS available with NACE MR 01-75
Types
Welded | Seamless | Fabricated
Dimensions
ASME/ ANSI B16.9 | ASME B16.28 | MSS-SP-43 | BS1560 | BS4504 | BS10
Size Range (inches)
Seamless Elbow ( 1/2″~24″)
ERW/Fabricated/Welded Elbow (1/2″~48″)
Forms
90 Deg Elbow, 45 Deg Elbow, 180 Deg Elbow
ASTM B366 Elbows, Inconel 625 45 Degree Elbow, 1D Elbow, Hastelloy C276 1.5D Elbow, Incoloy 800 5D Elbow, Monel 400 3D Elbow, Incoloy 800 90 Degree Elbow, Incoloy 825 Seamless Elbow, Alloy 20 SR Elbow, SMO 254 Welded Elbows, Titanium Alloy 45 Degree Elbow. Get best Price List.​
High Nickel Alloy Elbow
Types
If you are looking for ASTM B366 Nickel Alloy Elbow Pipe Fittings types, weight chart, size chart, tolerance, and dimensions with drawings then kindly click the below-mentioned forms of pipe fittings as per your requirements to get the complete details. For the quick quote / price list click here.
Nickel Alloy Elbow
Dimensions and Weights Chart
Nickel Alloy 90 Degree Elbow - Short and Long Radius - Dimensions and Weights Chart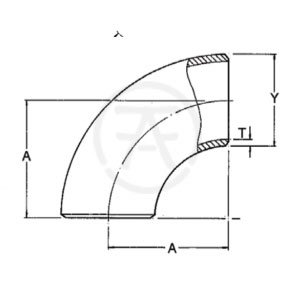 Dimensions and weights of Inconel 90 degree short and long radius elbows (NPS 1/2 to 24, schedule STD/XS)
Pipe Elbow Nominal Size
Pipe ElbowOutside
Diameter Y
WallThicknessT
(Pipe Elbow Schedule)
90 Deg. Elbow LR 
Centre to Face A
90 Deg. Elbow LR 
Weight
90 Deg. Elbow SR 
Centre to Face A
90 Deg. Elbow SR 
Weight
mm
in
mm
mm
Schedule
mm
kg
mm
kg
15
1/2"
21.3
2.78
STD
38.1
0.08
–
–
3.73
X.S
38.1
0.10
–
–
20
3/4"
26.7
2.87
STD
28.6
0.08
–
–
3.91
X.S
28.6
0.11
–
–
25
1"
33.4
3.38
STD
38.1
0.15
25.4
0.11
4.55
X.S
38.1
0.19
25.4
0.14
32
11/4"
42.2
3.56
STD
47.6
0.28
31.75
0.18
4.85
X.S
47.6
0.39
31.75
0.24
40
11/2"
48.3
3.68
STD
57.1
0.4
38.1
0.26
5.08
X.S
57.1
0.5
38.1
0.35
50
2"
60.3
3.91
STD
76.2
0.72
50.8
0.5
5.54
X.S
76.2
1.0
50.8
0.68
65
21/2"
73.0
5.16
STD
95.2
1.46
63.5
0.95
7.01
X.S
95.2
1.82
63.5
1.27
80
3"
88.9
5.49
STD
114.3
2.18
76.2
1.45
7.62
X.S
114.3
2.86
76.2
1.95
100
4"
114.3
6.02
STD
152.4
4.2
101.6
2.8
8.56
X.S
152.4
5.7
101.6
3.9
125
5"
141.3
6.65
STD
190.0
6.8
127.0
4.8
9.5
X.S
190.0
10.0
127.0
6.5
150
6"
168.3
7.11
STD
229.0
10.1
152.4
6.8
10.97
X.S
229.0
15.3
152.4
10.2
200
8"
219.1
8.18
STD
305.0
20.4
203.0
13.6
12.7
X.S
305.0
30.9
203.0
20.9
250
10"
273.9
9.27
STD
381.0
36.1
254.0
24.1
12.7
X.S
381.0
48.8
254.0
32.5
300
12"
323.9
9.52
STD
457.0
53.1
305.0
35.4
12.7
X.S
457.0
70.0
305.0
46.7
350
14"
355.6
9.52
STD
533.0
68.1
356.0
45.4
12.7
X.S
533.0
90.0
356.0
60.0
400
16"
406.4
9.52
STD
610.0
89.3
406.0
59.5
12.7
X.S
610.0
118.0
406.0
78.7
450
18"
457.0
9.52
STD
686.0
113.0
457.0
75.6
12.7
X.S
686.0
150.0
457.0
100.0
500
20"
508.0
9.52
STD
762.0
140.0
508.0
93.5
12.7
X.S
762.0
186.0
508.0
124.0
600
24"
610.00
9.52
STD
914.0
203.0
610.0
135.0
12.7
X.S
914.0
269.0
610.0
179.0
Hastelloy 45 Degree Elbow - Short and Long Radius - Dimensions and Weights Chart
Dimensions and weights of Hastelloy C276 Buttweld 45 degree short and long radius elbows (NPS 1/2 to 24, schedule STD/XS)
Pipe Elbow Nominal Size
Pipe ElbowOutside
Diameter Y
WallThicknessT
(Pipe Elbow Schedule)
45 Deg. Elbow LR Centre toFace B
45 Deg. Elbow LR
Weight
mm
in
mm
mm
Schedule
mm
kg
15
1/2"
21.3
2.78
STD
15.9
0.04
3.73
X.S
15.9
0.05
20
3/4"
26.7
2.87
STD
11.1
0.04
3.91
X.S
11.1
0.05
25
1"
33.4
3.38
STD
22.2
0.09
4.55
X.S
22.2
0.11
32
11/4"
42.2
3.56
STD
25.4
0.14
4.85
X.S
25.4
0.2
40
11/2"
48.3
3.68
STD
28.6
0.2
5.08
X.S
28.6
0.25
50
2"
60.3
3.91
STD
34.9
0.36
5.54
X.S
34.9
0.5
65
21/2"
73.0
5.16
STD
44.4
0.73
7.01
X.S
44.4
0.91
80
3"
88.9
5.49
STD
50.8
1.1
7.62
X.S
50.8
1.45
100
4"
114.3
6.02
STD
63.5
2.1
8.56
X.S
63.5
2.9
125
5"
141.3
6.65
STD
79.4
3.4
9.5
X.S
79.4
5.0
150
6"
168.3
7.11
STD
95.2
5.1
10.97
X.S
95.2
7.7
200
8"
219.1
8.18
STD
127.0
10.2
12.7
X.S
127.0
15.5
250
10"
273.9
9.27
STD
159.0
18.1
12.7
X.S
159.0
24.4
300
12"
323.9
9.52
STD
190.0
26.6
12.7
X.S
190.0
35.0
350
14"
355.6
9.52
STD
222.0
34.1
12.7
X.S
222.0
45.0
400
16"
406.4
9.52
STD
254.0
45.0
12.7
X.S
254.0
59.0
450
18"
457.0
9.52
STD
286.0
56.5
12.7
X.S
286.0
75.0
500
20"
508.0
9.52
STD
318.0
85.0
12.7
X.S
318.0
112.5
600
24"
610.00
9.52
STD
381.0
101.5
12.7
X.S
381.0
134.5
Nickel Alloy 180 Degree Elbow - Short and Long Radius - Dimensions
Dimensions of Nickel Alloy 200 180 degree short and long radius elbows (NPS 1/2 to 24, schedule STD/XS)
Pipe Elbow Nominal Size
Pipe Elbow Outside.
D
180° Deg. Elbow LR
180° Deg. Elbow SR
Center to Center
O
Back to
Face
K
Center to Center
O
Back to
Face
K
1/2
21.3
76
48
 
 
3/4
26.7
76
51
 
 
1
33.4
76
56
51
41
1.1/4
42.2
95
70
64
52
1.1/2
48.3
114
83
76
62
2
60.3
152
106
102
81
2.1/2
73
190
132
127
100
3
88.9
229
159
152
121
3.1/2
101.6
267
184
178
140
4
114.3
305
210
203
159
5
141.3
381
262
254
197
6
168.3
457
313
305
237
8
219.1
610
414
406
313
10
273
762
518
508
391
12
323.8
914
619
610
467
14
355.6
1067
711
711
533
16
406.4
1219
813
813
610
18
457
1372
914
914
686
20
508
1524
1016
1016
762
22
559
1676
1118
1118
838
24
610
1829
1219
1219
914
High Nickel Alloy Elbow
Tolerance
Buttweld Fittings ASME B16.9 Elbow Tolerance
45 Deg.
Elbow
90 Deg.
Elbow
Buttweld Fitting Dimension (NPS)
Outside
Diameter
at Bevel
Inside
Diameter
at End
WallThickness T
Center-to-End
Dimension
A ,C ,B
Center-to-End
Dimension
A ,C ,B
1/2 to 2-1/2
+0.06
Not less than 87.5%
of nominal thickness
+/- 0.06
+/- 0.06
-0.03
3 to 3-1/2
+/- 0.06
+/- 0.06
+/- 0.06
+/- 0.06
4
+/- 0.06
+/- 0.06
+/- 0.06
+/- 0.06
5 to 8
+/- 0.06
+/- 0.06
+/- 0.06
+/- 0.06
10 to 18
+0.16
+/- 0.12
+/- 0.09
+/- 0.09
-0.12
20 to 24
+0.25
+/- 0.19
+/- 0.09
+/- 0.09
-0.19
26 to 30
+0.25
+/- 0.19
+/- 0.12
+/- 0.12
-0.19
32 to 48
+0.25
+/- 0.19
+/- 0.19
+/- 0.19
-0.19
ASTM B366 Elbow
Applications
Myanmar, Nepal, Thailand, Vietnam, Philippines, Malaysia, Indonesia,
Singapore, Taiwan, Tasmania, Sri Lanka, Bangladesh, Bhutan, Cambodia,
Australia, New Zealand, Afghanistan, Tajikistan, Kyrgyzstan, Kazakhstan,
Uzbekistan, Turkmenistan, Iran, United Arab Emirates(UAE), Saudi Arabia,
Oman, Yemen, Iraq, Azerbaijan, Turkiye, Syria, Lebanon, Israel, Kenya,
Egypt, South Sudan, Eritrea, Djibouti, Ethiopia, Libya, Rwanda, Mali,
Niger, Chad, Central Africa Republic, Nigeria, Cameroon, Somalia, DRC,
Uganda, Tanzania, Angola, Zambia, Madagascar, Malawi, Namibia, Benin,
Zimbabwe, Botswana, Lesotho, South Africa, Algeria, Tunisia, Morocco,
Eswatini, Liberia, Sierra Leone, The Gambia, Senegal, Mozambique, Togo,
Mauritania, Burkina Faso, Ghana, Equatorial Guinea, Jordan, Timor-Leste,
Palestine, Laos, Armenia, Georgia, Maldives, Cyprus, Kuwait, Qatar, Peru,
Bahrain, Brunei, Finland, France, Germany, Ireland, Iceland, UK, US,
Greece, Hungary, Italy, Norway, Poland, Slovakia, Sweden, Canada, Fiji,
Romania, Cuba, Panama, Brazil, Colombia, Chile, Argentina, Venezuela,
Naypyidaw, Kathmandu, Bangkok, Hanoi, Manila, Kuala Lumpur, Jakarta, Tunis,
Jurong East, Taipei City, Hobart, Sri Jayawardenepura Kotte, Dhaka, Thimphu,
Phnom Penh, Canberra, Wellington, Kabul, Dushanbe, Bishkek, Astana, Abuja,
Tashkent, Ashgabat, Tehran, Abu Dhabi, Riyadh, Muscat, Sana'a, Baghdad, Pretoria,
Baku, Ankara, Damascus, Beirut, Jerusalem, Nairobi, Cairo, Juba, Asmara, Rabat,
Djibouti city, Addis Ababa, Tripoli, Kigali, Bamako, Niamey, N'Djamena, Bangui,
Yaoundé, Mogadishu, Kinshasa, Kampala, Dodoma, Luanda, Lusaka, Antananarivo,
Lilongwe, Windhoek, Porto-Novo, Harare, Gaborone, Maseru, Cape Town, Bloemfontein,
Algiers, Mbabane, Lobamba, Monrovia, Freetown, Banjul, Dakar, Maputo, Lomé, Dili,
Nouakchott, Ouagadougou, Accra, Malabo, Amman, Vientiane, Yerevan, Tbilisi, Rome,
Malé, Nicosia, Kuwait City, Doha, Lima, Manama, Bandar Seri Begawan, Paris,
Helsinki, Berlin, Dublin, Reykjavík, London, Washington D.C., Athens, Budapest,
Oslo, Warsaw, Bratislava, Stockholm, Ottawa, Suva, Bucharest, Havana, Panama City,
Brasília, Bogotá, Santiago, Buenos Aires, Caracas, Mumabi, Chennai, Bengaluru,
Kolkata, Hyderabad, Pune, Ahmedabad, Jaipur, Surat, Visakhapatnam, Indore, New Delhi
Lucknow, Nagpur, Kochi, Kanpur, Guwahati, Coimbatore, Noida, Ghaziabad, Patna