Stainless Steel Equal Cross Manufacturers and Suppliers:
A stainless steel cross is a religious symbol that is made of stainless steel, a corrosion-resistant alloy that contains at least 10.5% chromium. The cross is typically a representation of the Christian faith, symbolizing the crucifixion of Jesus Christ.
Stainless steel crosses can come in a variety of styles and sizes, from small pendants to large sculptures. SS crosses may be plain or adorned with decorative elements, such as engravings or gemstones.
ISO Approved Stainless Steel Straight Cross Manufacturer In India, SS Cross Fittings, SS Unequal Cross, Stainless Steel Reducing Cross Dimensions Chart, Tolerances, Weight Chart
Stainless steel cross is a popular material for crosses due to its durability, low maintenance, and sleek appearance. It is resistant to rust and tarnishing, making it a long-lasting option for religious jewelry and decor.
Stainless steel crosses worn as a personal expression of faith or displayed in a place of worship or home as a decorative item. SS Crosses are often given as gifts for occasions such as baptisms, confirmations, and weddings.
ASTM A403 Stainless Steel Cross
Standard Specifications
Standards
ANSI / ASME B16.9, MSS SP-43, API 590-605
Thickness
SCH10, SCH 20, SCH30, STD SCH40, SCH80, SCH60, XS, SCH100, SCH 120, SCH140, SCH 160, XXS available with NACE MR 01-75
Types
Welded | Seamless | Fabricated
Dimensions
ASME/ ANSI B16.9 | ASME B16.28 | MSS-SP-43 | BS1560 | BS4504 | BS10
Size Range (inches)
Seamless Elbow ( 1/2″~24″)
ERW/Fabricated/Welded Elbow (1/2″~48″)
Forms
Equal Cross, Straight Cross & Unequal Cross, Reducing Cross
Equal Cross, Straight Cross, Unequal Cross, Reducing Cross in Stainless Steel 304/304L, 310/310s, 317/317L, 321/321h, 347/347h, 316/316L, 446, 904L. Get best Price List.​
Stainless Steel Cross
Dimensions and Weights Chart
Stainless Steel Equal Cross Dimensions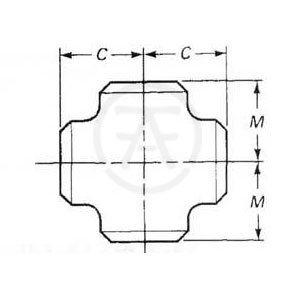 Dimensions and weights of Buttweld Equal Cross (NPS 1/2 to 24, schedule STD/XS)
Nominal Pipe Size (NPS)
DN
Outside Diameter at Bevel
Center- to-End
Run.C
Outlet. M[Notes(1) and (2)]
1/2
15
21.3
25
25
3/4
20
26.7
29
29
1
25
33.4
38
38
1-1/4
32
42.2
48
48
1-1/2
40
48.3
57
57
2
50
60.3
64
64
2-1/2
65
73.0
76
76
3
80
88.9
86
86
3-1/2
90
101.6
95
95
4
100
114.3
105
105
5
125
141.3
124
124
6
150
168.3
143
143
8
200
219.1
178
178
10
250
273.0
216
216
12
300
323.8
254
254
14
350
355.6
279
279
16
400
406.4
305
305
18
450
457
343
343
20
500
508
381
381
22
550
559
419
419
24
600
610
432
432
26
650
660
495
495
28
700
711
521
521
30
750
762
559
559
32
800
813
597
597
34
850
864
635
635
36
900
914
673
673
38
950
965
711
711
40
1000
1016
749
749
42
1050
1067
762
711
44
1100
1118
813
762
46
1150
1168
851
800
48
1200
1219
889
838
Stainless Steel Reducing Cross Dimensions
Dimensions and weights of Buttweld Reducing Cross (NPS 1/2 to 24, schedule STD/XS)
Nominal Diameter
Outside Diameter
Center to End
D1
D2
DN
NPS
Series A
Series B
Series A
Series B
C
M
15×15
1/2×1/2
21.3
18
21.3
18
25
25
15×10
1/2×3/8
21.3
18
17.3
14
25
25
15×8
1/2×1/4
21.3
18
13.7
10
25
25
20×20
3/4×3/4
26.9
25
26.9
25
29
29
20×15
3/4×1/2
26.9
25
21.3
18
29
29
20×10
3/4×3/8
26.9
25
17.3
14
29
29
25×25
1×1
33.7
32
33.7
32
38
38
25×20
1×3/4
33.7
32
26.9
25
38
38
25×15
1×1/2
33.7
32
21.3
18
38
38
32×32
1.1/4×1.1/4
42.4
38
42.4
38
48
48
32×25
1.1/4×1
42.4
38
33.7
32
48
48
32×20
1.1/4×3/4
42.4
38
26.9
25
48
48
32×15
1.1/4×1/2
42.4
38
21.3
18
48
48
40×40
1.1/2×1.1/2
48.3
45
48.3
45
57
57
40×32
1.1/2×1.1/4
48.3
45
42.4
38
57
57
40×25
1.1/2×1
48.3
45
33.7
32
57
57
40×20
1.1/2×3/4
48.3
45
26.9
25
57
57
40×15
1.1/2×1/2
48.3
45
21.3
18
57
57
50×50
2×2
60.3
57
60.3
57
64
64
50×40
2×1.1/2
60.3
57
48.3
45
64
60
50×32
2×1.1/4
60.3
57
42.4
38
64
57
50×25
2×1
60.3
57
33.7
32
64
51
50×20
2×3/4
60.3
57
26.9
25
64
44
65×65
2/1/2×2.1/2
73.0
76
73.0
76
76
76
65×50
2/1/2×2
73.0
76
60.3
57
76
70
65×40
2/1/2×1.1/2
73.0
76
48.3
45
76
67
65×32
2/1/2×1.1/4
73.0
76
42.4
38
76
64
65×25
2/1/2×1
73.0
76
33.7
32
76
57
80×80
3×3
88.9
89
88.9
89
86
86
80×65
3×2.1/2
88.9
89
73.0
76
86
83
80×50
3×2
88.9
89
60.3
57
86
76
80×40
3×1.1/2
88.9
89
48.3
45
86
73
80×32
3×1.1/4
88.9
89
42.4
38
86
70
90×90
3.1/2×3.1/2
101.6
–
101.6
–
95
95
90×80
3.1/2×3
101.6
–
88.9
89
95
92
90×65
3.1/2×2.1/2
101.6
–
73.0
76
95
89
90×50
3.1/2×2
101.6
–
60.3
57
95
83
90×40
3.1/2×1.1/2
101.6
–
48.3
45
95
79
100×100
4×4
114.3
108
114.3
108
105
105
100×90
4×3.1/2
114.3
108
101.6
–
105
102
100×80
4×3
114.3
108
88.9
89
105
98
100×65
4×2.1/2
114.3
108
73.0
76
105
95
100×50
4×2
114.3
108
60.3
57
105
89
100×40
4×1.1/2
114.3
108
48.3
45
105
86
125×125
5×5
141.3
133
141.3
133
124
124
125×100
5×4
141.3
133
114.3
108
124
117
125×90
5×3.1/2
141.3
–
101.6
–
124
114
125×80
5×3
141.3
133
88.9
89
124
111
125×65
5×2.1.2
141.3
133
73.0
76
124
108
125×50
5×2
141.3
133
60.3
57
124
105
150×150
6×6
168.3
159
168.3
159
143
143
150×125
6×5
168.3
159
141.3
133
143
137
150×100
6×4
168.3
159
114.3
108
143
130
150×90
6×3.1/2
168.3
–
101.6
–
143
127
150×80
6×3
168.3
159
88.9
89
143
124
150×65
6×2.1/2
168.3
159
73.0
76
143
121
200×200
8×8
219.1
219
219.1
219
178
178
200×150
8×6
219.1
219
168.3
159
178
168
200×125
8×5
219.1
219
141.4
133
178
162
200×100
8×4
219.1
219
114.3
108
178
156
200×90
8×3.1/2
219.1
–
101.6
–
178
152
250×250
10×10
273.0
273
273.0
273
216
216
250×200
10×8
273.0
273
219.1
219
216
203
250×150
10×6
273.0
273
168.3
159
216
194
250×125
10×5
273.0
273
141.3
133
216
191
250×100
10×4
273.0
273
114.3
108
216
184
300×300
12×12
323.9
325
323.9
325
254
254
300×250
12×10
323.9
325
273.0
273
254
241
300×200
12×8
323.9
325
219.1
219
254
229
300×150
12×6
323.9
325
168.3
159
254
219
300×125
12×5
323.9
325
141.3
133
254
216
350×350
14×14
355.6
377
355.6
377
279
279
350×300
14×12
355.6
377
323.9
325
279
270
350×250
14×10
355.6
377
273.0
273
279
257
350×200
14×8
355.6
377
219.1
219
279
248
350×150
14×6
355.6
377
168.3
159
279
238
400×400
16×16
406.4
426
406.4
426
305
305
400×350
16×14
406.4
426
355.6
377
305
305
400×300
16×12
406.4
426
323.9
325
305
295
400×250
16×10
406.4
426
273.0
273
305
283
400×200
16×8
406.4
426
219.1
219
305
273
400×150
16×6
406.4
426
168.3
159
305
264
450×450
18×18
457
480
457
480
343
343
450×400
18×16
457
480
406.4
426
343
330
450×350
18×14
457
480
355.6
377
343
330
450×300
18×12
457
480
323.9
325
343
321
450×250
18×10
457
480
273.0
273
343
308
450×200
18×8
457
480
219.1
219
343
298
500×500
20×20
508
530
508
530
381
381
500×450
20×20
508
530
457
480
381
368
500×400
20×20
508
530
406.4
426
381
356
500×350
20×20
508
530
355.6
377
381
356
500×300
20×20
508
530
323.9
325
381
346
500×250
20×20
508
530
273.0
273
381
333
500×200
20×20
508
530
219.1
219
381
324
Stainless Steel 304L Cross
Applications
Myanmar, Nepal, Thailand, Vietnam, Philippines, Malaysia, Indonesia,
Singapore, Taiwan, Tasmania, Sri Lanka, Bangladesh, Bhutan, Cambodia,
Australia, New Zealand, Afghanistan, Tajikistan, Kyrgyzstan, Kazakhstan,
Uzbekistan, Turkmenistan, Iran, United Arab Emirates(UAE), Saudi Arabia,
Oman, Yemen, Iraq, Azerbaijan, Turkiye, Syria, Lebanon, Israel, Kenya,
Egypt, South Sudan, Eritrea, Djibouti, Ethiopia, Libya, Rwanda, Mali,
Niger, Chad, Central Africa Republic, Nigeria, Cameroon, Somalia, DRC,
Uganda, Tanzania, Angola, Zambia, Madagascar, Malawi, Namibia, Benin,
Zimbabwe, Botswana, Lesotho, South Africa, Algeria, Tunisia, Morocco,
Eswatini, Liberia, Sierra Leone, The Gambia, Senegal, Mozambique, Togo,
Mauritania, Burkina Faso, Ghana, Equatorial Guinea, Jordan, Timor-Leste,
Palestine, Laos, Armenia, Georgia, Maldives, Cyprus, Kuwait, Qatar, Peru,
Bahrain, Brunei, Finland, France, Germany, Ireland, Iceland, UK, US,
Greece, Hungary, Italy, Norway, Poland, Slovakia, Sweden, Canada, Fiji,
Romania, Cuba, Panama, Brazil, Colombia, Chile, Argentina, Venezuela,
Naypyidaw, Kathmandu, Bangkok, Hanoi, Manila, Kuala Lumpur, Jakarta, Tunis,
Jurong East, Taipei City, Hobart, Sri Jayawardenepura Kotte, Dhaka, Thimphu,
Phnom Penh, Canberra, Wellington, Kabul, Dushanbe, Bishkek, Astana, Abuja,
Tashkent, Ashgabat, Tehran, Abu Dhabi, Riyadh, Muscat, Sana'a, Baghdad, Pretoria,
Baku, Ankara, Damascus, Beirut, Jerusalem, Nairobi, Cairo, Juba, Asmara, Rabat,
Djibouti city, Addis Ababa, Tripoli, Kigali, Bamako, Niamey, N'Djamena, Bangui,
Yaoundé, Mogadishu, Kinshasa, Kampala, Dodoma, Luanda, Lusaka, Antananarivo,
Lilongwe, Windhoek, Porto-Novo, Harare, Gaborone, Maseru, Cape Town, Bloemfontein,
Algiers, Mbabane, Lobamba, Monrovia, Freetown, Banjul, Dakar, Maputo, Lomé, Dili,
Nouakchott, Ouagadougou, Accra, Malabo, Amman, Vientiane, Yerevan, Tbilisi, Rome,
Malé, Nicosia, Kuwait City, Doha, Lima, Manama, Bandar Seri Begawan, Paris,
Helsinki, Berlin, Dublin, Reykjavík, London, Washington D.C., Athens, Budapest,
Oslo, Warsaw, Bratislava, Stockholm, Ottawa, Suva, Bucharest, Havana, Panama City,
Brasília, Bogotá, Santiago, Buenos Aires, Caracas, Mumabi, Chennai, Bengaluru,
Kolkata, Hyderabad, Pune, Ahmedabad, Jaipur, Surat, Visakhapatnam, Indore, New Delhi
Lucknow, Nagpur, Kochi, Kanpur, Guwahati, Coimbatore, Noida, Ghaziabad, Patna