Stainless Steel Outlet Fitting Manufacturers and Suppliers:
A stainless steel outlet is a type of electrical outlet or receptacle that is made of stainless steel, a corrosion-resistant alloy composed primarily of iron, chromium, and nickel. Stainless steel outlets are typically used in areas where exposure to moisture, chemicals, or other corrosive substances may be present, such as kitchens, bathrooms, or outdoor settings.
ISO Approved Stainless Steel Weldolet Manufacturer In India, Stainless Steel Sockolet, Thredolet, Elbolet, Nipolet, Latrolet, Coupolet, Sweepolet, Flexolet, Flangolet, Brazolet Dimensions Chart, Tolerances, Weight Chart
Stainless steel outlets come in a variety of styles and configurations, including standard duplex outlets, GFCI (ground fault circuit interrupter) outlets, and tamper-resistant outlets. SS outlets may also feature various finishes, such as brushed or polished stainless steel.
In addition to their corrosion resistance, stainless steel outlets are known for durability and strength, also relatively easy to clean and maintain, making a popular choice in commercial and industrial settings.
When selecting a stainless steel outlet, it's important to ensure that it meets local electrical codes and safety standards. It's also recommended to have a licensed electrician install the outlet to ensure proper installation and safety.
Stainless Steel Weldolet
Standard Specifications
Standards
ASME B31.3, B31.1, B31.8, B31.4, ASME/ANSI B16.11, MSS-SP-97
Thickness
SCH 5S, SCH 10S, SCH 40S, SCH 80S, SCH 120S
Form
Welding Outlets, Welding Olets
Dimensions
ASME B31.3,1,8,4 | ASME/ANSI B16.11 | MSS-SP-97 | JIS B2316 | BS 3799
Class
3000 LBS, 6000 LBS, 9000 LBS
Outlets in Stainless Steel 304/304L, 310/310s, 317/317L, 321/321h, 347/347h, 316/316L, 446, 904L. Get best Price List.​
Stainless Steel Outlet Fittings
Types
If you are looking for SS Olets Fittings types, weight chart, size chart, tolerance, and dimensions with drawings then kindly click the below-mentioned forms of pipe fittings as per your requirements to get the complete details. For the quick quote / price list click here.
Stainless Steel Outlets
Material Grades
| | |
| --- | --- |
| Stainless Steel Outlet: | ASTM A182/SA182 WP Gr. 304, 304L, 304H, 310, 310S, 316, 316L, 316H, 316Ti, 317, 317L, 321, 321H, 347, 347H, 446, 904L |
Stainless Steel Outlets
Dimensions
Stainless Steel Weldolet - Dimensions Chart
Dimensions of Weldolet (NPS 1/2 - 24 STD Size on Size)
NPS
A
B
C
D
1/2
3/4
19.05
1.3/8
34.93
15/16
23.81
5/8
15.88
3/4
7/8
22.23
1.5/8
41.28
1.3/16
30.16
13/16
20.64
1
1.1/16
26.99
2
50.80
1.7/16
36.51
1.1/32
26.19
1.1/4
1.1/4
31.75
2.3/8
60.3
1.3/4
44.45
1.3/8
34.93
1.1/2
1.5/16
33.34
2.7/8
73
2
50.80
1.5/8
41.28
2
1.1/2
38.10
3.1/2
88.90
2.9/16
65.09
2.1/16
52.39
2.1/2
1.5/8
41.28
4.1/16
103.19
3
76.20
2.7/16
61.91
3
1.3/4
44.45
4.13/16
122.24
3.11/16
93.66
3.1/16
77.79
3.1/2
2
50.80
5.3/8
136.53
3.7/8
98.43
3.9/16
90.49
4
2
50.80
6
152.40
4.3/4
120.65
4
101.60
5
2.1/4
57.15
7.1/8
180.98
5.9/16
141.29
5.1/16
128.59
6
2.3/8
60.3
8.1/2
215.90
6.11/16
169.86
6.1/16
153.99
8
2.3/4
69.85
10.3/8
263.53
8.11/16
220.66
7.15/16
201.61
10
3.1/16
77.79
12.9/16
319.09
10.13/16
274.64
10
254.00
12
3.3/8
85.73
14.7/8
377.83
12.13/16
325.44
12
304.80
14
3.1/2
88.90
16.1/8
409.58
14.1/16
357.19
13.1/4
336.55
16
3.11/16
93.66
18¼
463.55
16.1/16
407.99
15¼
387.35
18
4.1/16
103.19
20.3/4
527.05
18.5/8
473.08
17¼
438.15
20
4.5/8
117.48
23.1/16
585.79
20.1/16
509.59
19¼
488.95
24
5.3/8
136.53
27.7/8
708.03
25.1/8
638.18
23.1/4
590.55
Dimensions of Weldolet (NPS 1/2 - 24 XS Size on Size)
NPS
A
B
C
D
1/2
3/4
19.05
1.3/8
34.93
15/16
23.81
5/8
15.88
3/4
7/8
22.23
1.5/8
41.28
1.3/16
30.16
13/16
20.64
1
1.1/16
26.99
2
50.80
1.7/16
36.51
1.1/32
26.19
1.1/4
1.1/4
31.75
2.7/16
61.91
1.3/4
44.45
1.3/8
34.93
1.1/2
1.5/16
33.34
2.7/8
73
2
50.80
1.5/8
41.28
2
1.1/2
38.10
3.1/2
88.90
2.9/16
65.09
2.1/16
52.39
2.1/2
1.5/8
41.28
4.1/16
103.19
3
76.20
2.7/16
61.91
3
1.3/4
44.45
4.13/16
122.24
3.11/16
93.66
3.1/16
77.79
3.1/2
2
50.80
5.3/8
136.53
3.7/8
98.43
3.9/16
90.49
4
2
50.80
6
152.40
4.3/4
120.65
4
101.60
5
2.1/4
57.15
7.1/8
180.98
5.9/16
141.29
5.1/16
128.59
6
3.1/16
77.79
8.7/8
225.43
6.11/16
169.86
6.1/16
153.99
8
3.7/8
98.43
10.5/8
269.88
8.11/16
220.66
7.5/8
193.68
10
3.1/2
88.90
12.7/8
327.03
10.7/16
265.11
9.3/4
254.00
12
3.15/16
100.01
15.3/16
385.76
13
330.20
11.3/4
304.80
14
4.1/8
104.78
16.11/16
423.86
14.5/16
363.54
13
330.20
16
4.7/16
112.71
18.7/8
479.43
16.1/2
419.10
15
381.00
18
4.11/16
119.06
21.1/8
536.58
18.5/8
473.08
17
431.80
20
5
127.00
23.3/8
593.73
20.13/16
528.64
19
482.60
24
5.1/2
139.70
27.7/8
708.03
25.1/8
638.18
23
584.20
Dimensions of Weldolet (NPS 3/4 - 20 STD Reducing)
NPS
A
B
C
1/2
3/4
19.05
1.3/8
34.93
15/16
23.81
3/4
7/8
22.23
1.3/4
44.45
1.3/16
30.16
1
1.1/16
26.99
2.1/8
53.98
1.7/16
36.51
1.1/4
1.1/4
31.75
2.9/16
65.09
1.3/4
44.45
1.1/2
1.5/16
33.34
2.7/8
73
2
50.80
2
1.1/2
38.10
3.1/2
88.90
2.9/16
65.09
2.1/2
1.5/8
41.28
4.1/16
103.19
3
76.20
3
1.3/4
44.45
4.13/16
122.24
3.11/16
93.66
3.1/2
1.7/8
47.63
5.5/8
142.88
4
101.60
4
2
50.80
6
152.40
4.3/4
120.65
5
2.1/4
57.15
7.1/16
179.39
5.9/16
141.29
6
2.3/8
60.3
8.1/2
215.90
6.11/16
169.86
8
2.3/4
69.85
10.3/8
263.53
8.11/16
220.66
10
3.1/16
77.79
12.11/16
322.26
10.13/16
274.64
12
3.3/8
85.73
14.7/8
377.83
12.13/16
325.44
14
3.1/2
88.90
16.1/8
409.58
14.1/16
357.19
16
3.11/16
93.66
18¼
463.55
16.1/16
407.99
18
3.13/16
96.84
20.1/2
520.70
18.1/16
458.79
20
4
101.60
22.1/2
571.50
20
508.00
24
4.9/16
115.89
27.1/8
688.98
24.3/16
614.36
Dimensions of Weldolet (NPS 3/4 - 20 XS Reducing)
NPS
A
B
C
1/2
3/4
19.05
1.3/8
34.93
15/16
23.81
3/4
7/8
22.23
1.3/4
44.45
1.3/16
30.16
1
1.1/16
26.99
2.1/8
53.98
1.7/16
36.51
1.1/4
1.1/4
31.75
2.9/16
65.09
1.3/4
44.45
1.1/2
1.5/16
33.34
2.7/8
73
2
50.80
2
1.1/2
38.10
3.1/2
88.90
2.9/16
65.09
2.1/2
1.5/8
41.28
4.1/16
103.19
3
76.20
3
1.3/4
44.45
4.13/16
122.24
3.11/16
93.66
3.1/2
1.7/8
47.63
5.5/8
142.88
4
101.60
4
2
50.80
6
152.40
4.3/4
120.65
5
2.1/4
57.15
7.1/16
179.39
5.9/16
141.29
6
2.3/8
60.3
8.1/2
215.90
6.11/16
169.86
8
2.3/4
69.85
10.3/8
263.53
8.11/16
220.66
10
3.1/16
77.79
12.11/16
322.26
10.13/16
274.64
12
3.3/8
85.73
14.7/8
377.83
12.13/16
325.44
14
3.1/2
88.90
16.1/8
409.58
14.1/16
357.19
16
3.11/16
93.66
18¼
463.55
16.1/16
407.99
18
3.13/16
96.84
20.1/2
520.70
18.1/16
458.79
20
4
101.60
22.1/2
571.50
20
508.00
24
4.9/16
115.89
27.1/8
688.98
24.3/16
614.36
Stainless Steel Brazolet - Dimensions Chart
Dimensions Chart of Brazolet
| Outlet Sizes | A | B | C | Brazing Surface | F-MIN. MIL-1183 |
| --- | --- | --- | --- | --- | --- |
| 1/4 | 11/16 | 1 | 9/16 | 0.188 | 0.700 |
| 3/8 | 13/16 | 1 1/4 | 3/4 | 0.190 | 0.855 |
| 1/2 | 1 | 1 7/16 | 7/8 | 0.220 | 1.020 |
| 3/4 | 1 1/16 | 1 3/4 | 1 1/8 | 0.240 | 1.250 |
| 1 | 1 1/4 | 2 1/8 | 1 7/16 | 0.270 | 1.535 |
| 1 1/4 | 1 5/16 | 2 9/16 | 1 3/4 | 0.300 | 1.900 |
| 1 1/2 | 1 3/8 | 2 7/8 | 2 | 0.330 | 2.160 |
| 2 | 1 1/2 | 3 1/2 | 2 9/16 | 0.360 | 2.675 |
| 2 1/2 | 1 13/16 | 4 1/8 | 3 | 0.384 | 3.215 |
| 3 | 2 | 4 13/16 | 3 11/16 | 0.442 | 3.880 |
| 4 | 2 1/4 | 6 | 4 3/4 | 0.476 | 4.940 |
| 5 | 2 5/8 | 7 1/16 | 5 9/16 | 0.656 | 6.163 |
| Outlet Sizes | A | B | C | Brazing Surface | F-MIN. MIL-1183 |
| --- | --- | --- | --- | --- | --- |
| 1/4 | 11/16 | 1 | 9/16 | 0.188 | 0.700 |
| 3/8 | 13/16 | 1 1/4 | 3/4 | 0.190 | 0.855 |
| 1/2 | 13/16 | 1 1/4 | 3/4 | 0.190 | 0.855 |
| 3/4 | 1 | 1 7/16 | 7/8 | 0.220 | 1.020 |
| 1 | 1 1/16 | 1 3/4 | 1 1/8 | 0.240 | 1.250 |
| 1 1/4 | 1 1/4 | 2 1/8 | 1 7/16 | 0.270 | 1.535 |
| 1 1/2 | 1 5/16 | 2 9/16 | 1 3/4 | 0.300 | 1.900 |
| 2 | 1 3/8 | 2 7/8 | 2 | 0.330 | 2.160 |
| 2 1/2 | 1 1/2 | 3 1/2 | 2 9/16 | 0.360 | 2.675 |
| 3 | 1 13/16 | 4 1/8 | 3 | 0.384 | 3.215 |
| 4 | 2 1/8 | 5 1/2 | 4 5/16 | 0.437 | 4.400 |
Stainless Steel Coupolet - Socket Weld - Dimensions Chart
Dimensions of Socket Weld Coupolet (3000# and 6000#, 9000# )
Nominal Pipe Size
Socket Bore Diam., B
Bore Diameter of Fittings, D
Socket Wall Thickness, C [Note (1)]
Outside Dia. Couplet,G
Tol ±
Socket Depth, J
End to End Couplet, M
Weld Ring Diameter, N
Weld Ring Length,Q
Tol ±
Max.
Min.
3000
6000
9000
3000
6000
9000
Max.
Min.
Max.
Min.
Max.
Min.
Avg.
Min.
Avg.
Min.
Avg.
Min.
3000
6000
Min.
 
Tol
 
Tol
3000/6000
1/8
11.2
10.8
7.6
6.1
4.8
3.2
 
 
3.18
3.18
3.96
3.43
 
 
±1.5/-0.0
9.5
6.4
1/4
14.6
14.2
10.0
8.5
7.1
5.6
3.78
3.30
4.60
4.01
23.8
25.4
±1.5/-0.0
9.5
6.4
30.2
±0.81-0.0
17.5
±1.5/-0.0
3/8
18.0
17.6
13.3
11.8
9.9
8.4
4.01
3.50
5.03
4.37
27.0
31.8
±1.5/-0.0
9.5
6.4
30.2
±0.81-0.0
20.7
±1.5/-0.0
1/2
22.2
21.8
16.6
15.0
12.5
11.0
7.2
5.6
4.67
4.09
5.97
5.18
9.35
8.18
33.4
38.1
±1.5/-0.0
9.5
7.9
11.2
311
±0.81-0.0
23.8
±1.5/-0.0
3/4
27.6
27.2
21.7
20.2
16.3
14.8
11.8
10.3
4.90
4.27
6.96
6.04
9.78
8.56
38.1
44.5
±1.5/-0.0
12.5
7.9
12.7
34.9
±0.0/-0.0
27.0
±1.5/-0.0
1
34.3
33.9
27.4
25.9
21.5
19.9
16.0
14.4
5.69
4.98
7.92
6.93
11.38
9.96
46.1
57.2
±1.5/-0.0
12.5
11.2
14.2
47.6
±0.8/-0.0
42.9
±1.5/-0.0
1 1/4
43.1
42.7
35.8
34.3
30.2
28.7
23.5
22.0
6.07
5.28
7.92
6.93
12.14
10.62
55.6
63.5
±1.5/-0.0
12.5
11.2
14.2
47.6
±0.0/-0.0
42.9
±1.5/-0.0
1 1/2
49.2
48.8
41.6
40.1
34.7
33.2
28.7
27.2
6.35
5.54
8.92
7.80
12.70
11.12
63.5
76.2
±1.5/-0.0
12.5
12.7
15.7
50.8
±0.8/-0.0
49.2
±1.51-0.0
2
61.7
61.2
53.3
51.7
43.6
42.1
38.9
37.4
6.93
6.04
10.92
9.50
13.84
12.12
79.4
92.1
±1.5/-0.0
16.0
15.7
19.0
57.2
±1.5/-0.0
61.9
±L5/-0.0
2 1/2
74.4
73.9
64.2
61.2
8.76
7.67
92.1
100.0
±1.51-0.0
16.0
19.0
63.5
±1.51-0.0
73.0
±1.51-0.0
3
90.3
89.8
79.4
76.4
9.52
8.30
111.1
127.0
±1.5/-0.0
16.0
22.4
69.9
±1.51-0.0
88.9
±1.51-0.0
4
115.7
115.2
103.8
100.7
 
 
 
 
10.69
9.35
 
 
 
 
141.3
158.8
±1.5/-0.0
19.0
28.4
76.2
±1.51-0.0
114.3
Stainless Steel Coupolet - Threaded - Dimensions Chart
Dimensions of Threaded Coupolet (3000# and 6000#, 9000#)
Class 6000 Threaded and Socket Weld
Size
A
B
C
E
1/4
39.69
59.53
36.51
39.69
3/8
39.69
59.53
36.51
39.69
1/2
47.63
69.85
44.45
48.42
3/4
55.56
82.55
53.98
55.56
1
63.50
92.87
66.68
62.71
1 1/4
69.85
107.16
76.99
66.68
1 1/2
85.73
138.11
104.78
80.17
2
85.73
138.11
104.78
80.17
Stainless Steel Elbolet - Dimensions Chart
Dimensions of Elbolet (L= E + SQRT(B2 - A2 + ROOT GAP))
Nominal Size of Elbow (NPS)
Outlet Size (NPS)
CL 3000 Threaded and Socket Weld
Sch. Standard and XS Buttweld
CL 6000 Threaded and Socket Weld
Sch. 160 and XXS Buttweld
C
E
C
E
36 – 3/4
1/4
1 1/2
1 19/32
1 1/2
1 19/32
36 – 3/4
3/8
1 1/2
1 19/32
1 1/2
1 19/32
36 – 3/4
1/2
1 1/2
1 19/32
1 23/32
1 7/8
36 – 1
3/4
1 23/32
1 7/8
2 1/4
2 1/4
36 – 2
1
2 1/4
2 1/4
2 7/8
2 1/2
36 – 2
1 1/4
2 7/8
2 1/2
3 1/8
2 11/16
36 – 2
1 1/2
3 1/8
2 11/16
4 3/16
3 1/4
36 – 3
2
4 3/16
3 1/4
–
–
Order
to
Specific
Elbow
Sizes
*2 1/2
4 3/16
3 1/4
bw only
bw only
*3
5 1/16
3 7/8
bw only
bw only
*4
6 5/8
4 13/16
bw only
bw only
*6
9 3/8
6 1/2
bw only
bw only
*8
13 5/16
8 1/16
bw only
bw only
*10
17 1/32
10 3/8
bw only
bw only
*12
19 5/8
11 1/8
bw only
bw only
Stainless Steel Flangolet - Dimensions & Weight Chart
Dimensions & Weight Chart of Flageolet Branch ½"
RATING
NOMINAL PIPE SIZE FROM 3/4" TO 36"
Bore schedule
B
C
D
E
Weight [kg]
STD
15,8
18,5
0,9
Flangeolet 150#
XS
13,8
17,6
88,9
11,2
0,9
160
11,7
11,7
0,9
XXS
6,4
6,4
0,9
Bore schedule
B
C
D
E
Weight [kg]
STD
15,8
18,5
1,2
Flange Olet 300#
XS
13,8
17,6
95,3
14,3
1,2
160
11,7
11,7
1,2
XXS
6,4
6,4
1,2
Bore schedule
B
C
D
E
Weight [kg]
STD
15,8
18,5
1,3
600#
XS
13,8
17,6
95,3
14,3
1,3
160
11,7
11,7
1,3
XXS
6,4
6,4
1,3
Bore schedule
B
C
D
E
Weight [kg]
STD
15,8
18,5
2,4
900# Flange Olet
XS
13,8
17,6
120,6
22,4
2,4
160
11,7
11,7
2,4
XXS
6,4
6,4
2,4
Bore schedule
B
C
D
E
Weight [kg]
STD
15,8
18,5
2,4
1500#
XS
13,8
17,6
120,6
22,4
2,4
160
11,7
11,7
2,4
XXS
6,4
6,4
2,4
Bore schedule
B
C
D
E
Weight [kg]
STD
15,8
18,5
3,6
2500#
XS
13,8
17,6
133,4
30,2
3,6
160
11,7
11,7
3,6
XXS
6,4
6,4
3,6
Dimensions & Weight Chart of Flageolet Branch 1
RATING
NOMINAL PIPE SIZE FROM 1.1/2" TO 36"
Bore schedule
B
C
D
E
Weight [kg]

STD

26,6

30

1,7

Flange olet 150#

XS

24,3

28,8

108

14,3

1,7

160

20,7

20,7

2

XXS

15,2

15,2

2,2

Bore schedule
B
C
D
E
Weight [kg]

STD

26,6

30

2,3

300#

XS

24,3

28,8

124

17,6

2,5

160

20,7

20,7

2,6

XXS

15,2

15,2

2,8

Bore schedule
B
C
D
E
Weight [kg]

STD

26,6

30

2,6

Flange olet 600#

XS

24,3

28,8

124

17,6

2,7

160

20,7

20,7

2,8

XXS

15,2

15,2

3

Bore schedule
B
C
D
E
Weight [kg]

STD

26,6

30

4,5

900#

XS

24,3

28,8

149,4

28,5

4,6

160

20,7

20,7

4,7

XXS

15,2

15,2

4,8

Bore schedule
B
C
D
E
Weight [kg]

STD

26,6

30

4,5

Flange olet 1500#

XS

24,3

28,8

149,4

28,5

4,6

160

20,7

20,7

4,7

XXS

15,2

15,2

4,8

Bore schedule
B
C
D
E
Weight [kg]

STD

26,6

30

6,1

2500#

XS

24,3

28,8

158,8

35,1

6,2

160

20,7

20,7

6,2

XXS

15,2

15,2

6,3
Dimensions & Weight Chart of Flageolet Branch 1½"
RATING
NOMINAL PIPE SIZE FROM 2" TO 36"
Bore schedule
B
C
D
E
Weight [kg]
STD
40,9
44,6
3,1
Flange olet 150#
XS
38,1
43,2
127
17,5
3,3
160
34
34
3,5
XXS
28
28
3,8
Bore schedule
B
C
D
E
Weight [kg]
STD
40,9
44,6
4,1
300#
XS
38,1
43,2
155,5
20,6
4,5
160
34
34
4,7
XXS
28
28
5
Bore schedule
B
C
D
E
Weight [kg]
STD
40,9
44,6
4,9
Flange olet 600#
XS
38,1
43,2
155,5
22,4
5
160
34
34
5,2
XXS
28
28
5,5
Bore schedule
B
C
D
E
Weight [kg]
STD
40,9
44,6
7,2
Flange olet 900#
XS
38,1
43,2
177,8
31,8
7,4
160
34
34
7,6
XXS
28
28
7,9
Bore schedule
B
C
D
E
Weight [kg]
STD
40,9
44,6
7,2
1500#
XS
38,1
43,2
177,8
31,8
7,4
160
34
34
7,6
XXS
28
28
7,9
Bore schedule
B
C
D
E
Weight [kg]
STD
40,9
44,6
12
Flange olet 2500#
XS
38,1
43,2
203,2
44,5
12
160
34
34
12,2
XXS
28
28
12,5
Dimensions & Weight Chart of Flageolet Branch 2
RATING
NOMINAL PIPE SIZE FROM 3" TO 36"
Bore schedule
B
C
D
E
Weight [kg]
STD
52,5
56,4
4,1
Flange Olet 150#
XS
49,2
54,8
152,4
19,1
4,8
160
42,8
42,8
5,1
XXS
38,2
38,2
5,5
Bore schedule
B
C
D
E
Weight [kg]
STD
52,5
56,4
5,5
300#
XS
49,2
54,8
165,1
22,4
5,8
160
42,8
42,8
6,1
XXS
38,2
38,2
6,5
Bore schedule
B
C
D
E
Weight [kg]
STD
52,5
56,4
6,2
600#
XS
49,2
54,8
165,1
25,4
6,5
160
42,8
42,8
7
XXS
38,2
38,2
7,2
Bore schedule
B
C
D
E
Weight [kg]
STD
52,5
56,4
13
Flange Olet 900#
XS
49,2
54,8
215,9
38,1
13,3
160
42,8
42,8
13,6
XXS
38,2
38,2
13,9
Bore schedule
B
C
D
E
Weight [kg]
STD
52,5
56,4
13
1500#
XS
49,2
54,8
215,9
38,1
13,3
160
42,8
42,8
13,6
XXS
38,2
38,2
13,9
Bore schedule
B
C
D
E
Weight [kg]
STD
52,5
56,4
18,4
2500#
XS
49,2
54,8
235
50,8
18,6
160
42,8
42,8
19
XXS
38,2
38,2
19,3
Dimensions & Weight Chart of Flageolet Branch 3
RATING
NOMINAL PIPE SIZE FROM 4" TO 36"
Bore schedule
Length
D
E
Weight [kg]
150#
10-STD
115
7,5
XS-80
115
191
23,9
7,5
160-XXS
145
8
Bore schedule
Length
D
E
Weight [kg]
Flange Olet 300#
10-STD
125
10
XS-80
125
210
28,5
10
160-XXS
150
11
Bore schedule
Length
D
E
Weight [kg]
600#
10-STD
135
13,5
XS-80
135
210
38,2
13,5
160-XXS
165
14,5
Bore schedule
Length
D
E
Weight [kg]
900#
10-STD
155
17
XS-80
155
241
44,5
17
160-XXS
180
18
Bore schedule
Length
D
E
Weight [kg]
Flange Olet 1500#
10-STD
170
25
XS-80
170
267
54,1
25
160-XXS
200
26
Bore schedule
Length
D
E
Weight [kg]
Flange Olet 2500#
10-STD
220
45,5
XS-80
220
305
72,9
45,5
160-XXS
250
51
Dimensions & Weight Chart of Flageolet Branch 4
RATING
NOMINAL PIPE SIZE FROM 5" TO 36"
Bore schedule
Length
D
E
Weight [kg]
Flange Olet 150#

10-STD

130

11,5

XS-80

130

229

23,9

11,5

160-XXS

160

13

Bore schedule
Length
D
E
Weight [kg]
300#

10-STD

140

16

XS-80

140

254

31,8

16

160-XXS

170

17

Bore schedule
Length
D
E
Weight [kg]
Flange Olet 600#

10-STD

160

24

XS-80

160

273

44,5

24

160-XXS

195

26

Bore schedule
Length
D
E
Weight [kg]
Flange Olet 900#

10-STD

170

28

XS-80

170

292

50,8

28

160-XXS

205

29,5

Bore schedule
Length
D
E
Weight [kg]
Flange Olet 1500#

10-STD

180

38

XS-80

180

311

60,2

38

160-XXS

215

40

Bore schedule
Length
D
E
Weight [kg]
2500#

10-STD

250

70,5

XS-80

250

356

82,4

70,5

160-XXS

281

72
Dimensions & Weight Chart of Flageolet Branch 6
RATING
NOMINAL PIPE SIZE FROM 8" TO 36"
Bore schedule
Length
D
E
Weight [kg]
Flange Olet 150#
10-STD
150
23,5
XS-80
170
279
25,4
25
160-XXS
195
27
Bore schedule
Length
D
E
Weight [kg]
Flange Olet 300#
10-STD
160
36,6
XS-80
175
318
36,6
37,5
160-XXS
205
39
Bore schedule
Length
D
E
Weight [kg]
600#
10-STD
185
49,5
XS-80
200
356
54,1
51
160-XXS
230
53,2
Bore schedule
Length
D
E
Weight [kg]
Flange Olet 900#
10-STD
210
62,5
XS-80
225
381
62
64,3
160-XXS
250
66
Bore schedule
Length
D
E
Weight [kg]
Flange Olet 1500#
10-STD
240
87,5
XS-80
255
394
88,9
89
160-XXS
285
91,2
Bore schedule
Length
D
E
Weight [kg]
Flange Olet 2500#
10-STD
340
186
XS-80
360
483
114,3
189
160-XXS
385
192,5
Stainless Steel Flexolet - Dimensions Chart
Dimensions of Flexolet
Standard
Outlet Size
Dimensions
Appx Weight
Inches
A
B
C
Pounds
3/8
3/4
1
0.493
0.10
1/2
3/4
1 1/8
0.622
0.12
3/4
7/8
1 1/2
0.824
0.22
1
1 1/16
1 13/16
1.062
0.32
1 1/4
1 1/4
2 1/4
1.38
0.64
1 1/2
1 5/16
2 9/16
1.625
0.78
2
1 1/2
3 5/16
2.313
1.14
2 1/2
1 5/8
3 21/32
2.500
1.94
3
1 3/4
4 9/32
3.125
2.60
4
2
5 3/8
4.145
4.12
6
2 3/8
7 21/32
6.112
11
Extra Strong
Outlet Size
Dimensions
Appx Weight
Inches
A
B
C
Pounds
3/8
3/4
1
0.423
0.10
1/2
3/4
1 1/8
0.546
0.12
3/4
7/8
1 1/2
0.742
0.18
1
1 1/16
2 13/16
1.062
0.36
1 1/4
1 1/4
2 1/4
1.278
0.55
1 1/2
1 5/16
2 9/16
1.625
0.68
2
1 1/2
3 5/16
2.313
1.24
2 1/2
1 5/8
3 21/32
2.500
2.26
3
1 3/4
4 9/32
3.125
2.84
4
2
5 3/8
4.145
4.56
6
3 1/16
7 23/32
5.800
15.00
Stainless Steel Latrolet - Threaded and Socket Weld - Dimensions Chart
Dimensions of Threaded and Socket Weld Latrolet (Class 3000)
Class 3000 Threaded and Socket Weld
Size
A
B
C
E
1/4
39.69
59.53
36.51
39.69
3/8
39.69
59.53
36.51
39.69
1/2
39.69
59.53
36.51
39.69
3/4
47.63
69.85
44.45
48.42
1
55.56
82.55
53.98
55.56
1 1/4
63.50
97.63
66.68
74.61
1 1/2
69.85
107.16
76.99
66.68
2
85.73
138.11
104.78
80.17
Dimensions of Latrolet (Class 6000)
Class 6000 Threaded and Socket Weld
Size
A
B
C
E
1/4
39.69
59.53
36.51
39.69
3/8
39.69
59.53
36.51
39.69
1/2
47.63
69.85
44.45
48.42
3/4
55.56
82.55
53.98
55.56
1
63.50
92.87
66.68
62.71
1 1/4
69.85
107.16
76.99
66.68
1 1/2
85.73
138.11
104.78
80.17
2
85.73
138.11
104.78
80.17
Stainless Steel Latrolet - Butt Weld - Dimensions Chart
Dimensions of Butt Weld Latrolet (Standard & XS)
Standard & XS Butt Weld
Size
A
B
C
E
1/4
33.34
53.18
36.51
39.69
3/8
33.34
53.18
36.51
39.69
1/2
34.93
54.77
36.51
39.69
3/4
42.86
64.29
44.45
48.42
1
50.01
76.20
53.98
55.56
1 1/4
57.94
91.28
66.68
62.71
1 1/2
62.71
100.81
76.99
66.68
2
80.96
133.35
104.78
86.52
2 1/2
80.17
131.76
104.78
80.17
3
96.84
158.75
126.21
96.04
4
120.65
198.44
163.51
115.89
Dimensions of Butt Weld Latrolet (Sch. 160 and XXS)
Sch. 160 and XXS Butt Weld
Size
A
B
C
1/4
39.69
58.74
36.51
3/8
39.69
58.74
36.51
1/2
46.04
69.85
44.45
3/4
53.98
82.55
53.98
1
63.50
96.84
66.68
1 1/4
69.85
107.95
76.20
1 1/2
85.73
136.53
104.78
Stainless Steel Nipolet - Dimensions Chart
Dimensions of Nipolet
Plain end and Threaded
Size
1/2
3/4
1
1 1/4
1 1/2
2
XS
A
3 1/2
3 1/2
3 1/2
3 1/2
3 1/2
3 1/2
C
15/16
1 3/16
1 7/16
1 3/4
2
2 9/16
XXS
A
3 1/2
3 1/2
3 1/2
3 1/2
3 1/2
3 1/2
C
9/16
3/4
1
1 5/16
1 1/2
1 11/16
Stainless Steel Sockolet Fitting - Dimensions & Weight Chart
Dimensions of Sockolet MSS SP-97 (Class 3000 "Size on Size")
Outlet Size (NPT)
A
B
C
D
E
Approx. Weight (lb)
1/2
1
1 3/8
15/16
0.622
17/32
0.15
3/4
1 1/16
1 5/8
1 3/16
0.824
15/32
0.25
1
1 5/16
2
1 7/16
1.049
23/32
0.45
1 1/4
1 5/16
2 3/8
1 3/4
1.380
9/16 0.65
1 1/2
1 3/8
2 7/8
2
1.610
21/32
0.85
2
1 1/2
3 1/2
2 9/16
2.067
15/16
1.40
2 1/2
1 9/16
4 1/16
3
2.469
3/4
2.25
3
1 3/4
4 13/16
3 11/16
3.068
15/16
3.75
3 1/2
1 11/16
5 3/8
4 7/16
3.548
11/16
4.30
4
1 7/8
6 1/16
4 3/4
4.026
1 1/16
6.60
5
2 7/16
7 1/4
5 1/4
5.047
1
9.00
6
2 11/16
8 11/16
6 1/16
6.065
1 3/16
15.50
Dimensions of Sockolet MSS SP-97 (Class 6000 "Size on Size")
| Outlet Size (NPS) | A | B | C | D | E | Approx. Weight (lb) |
| --- | --- | --- | --- | --- | --- | --- |
| 1/2 | 1 1/4 | 1 23/32 | 3/4 | 0.466 | 7/8 | 0.50 |
| 3/4 | 1 7/16 | 1 61/64 | 1 | 0.614 | 7/8 | 0.80 |
| 1 | 1 9/16 | 2 7/16 | 1 5/16 | 0.815 | 15/16 | 1.30 |
| 1 1/4 | 1 5/8 | 2 23/32 | 1 1/2 | 1.160 | 13/16 | 1.60 |
| 1 1/2 | 1 11/16 | 3 1/4 | 1 15/16 | 1.338 | 7/8 | 2.00 |
| 2 | 2 1/16 | 4 1/32 | 2 3/4 | 1.689 | 1 3/16 | 5.15 |
Stainless Steel Sweepolet - Dimensions Chart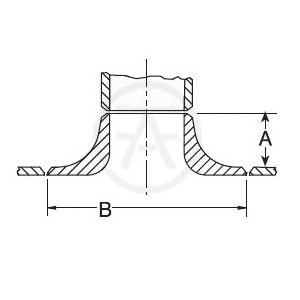 Dimensions of Sweepolet ( ANSI, FCS (IN))
| Run Size (NPS) | Outlet Size (NPS) | A | B |
| --- | --- | --- | --- |
| 6 to 36 | 1 1/4 | 1 1/4 | 4 |
| 6 to 36 | 1 1/2 | 1 3/4 | 5 1/2 |
| 6 to 36 | 2 | 1 1/2 | 5 1/2 |
| 6 to 36 | 3 | 1 21/32 | 7 |
| 6 to 36 | 4 | 2 1/32 | 8 3/4 |
| 10 to 36 | 6 | 2 11/16 | 13 |
| 12 to 36 | 8 | 3 | 15 |
| 16 to 36 | 10 | 3 1/8 | 18 1/2 |
| 16 to 36 | 12 | 3 5/16 | 20 1/2 |
| 20 to 36 | 14 | 3 5/8 | 24 |
| 24 to 36 | 16 | 3 3/4 | 28 |
| 24 to 36 | 18 | 4 5/8 | 31 |
| 24 to 36 | 20 | 5 1/8 | 33 |
| 30 to 36 | 24 | 5 5/8 | 38 |
Stainless Steel Thredolet - Dimensions Chart
Dimensions of Thredolet (Class 3000)
| Size in Inches | A | B | C | Weight in KG |
| --- | --- | --- | --- | --- |
| 1/8 | 19.05 | 25.40 | 15.88 | 0.05 |
| 1/4 | 19.05 | 25.40 | 15.88 | 0.05 |
| 3/8 | 20.64 | 31.75 | 19.05 | 0.09 |
| 1/2 | 25.40 | 35.72 | 23.81 | 0.11 |
| 3/4 | 26.99 | 43.66 | 29.37 | 0.16 |
| 1 | 33.34 | 50.80 | 36.51 | 0.27 |
| 1 1/4 | 33.34 | 65.09 | 44.45 | 0.41 |
| 1 1/2 | 34.93 | 72.23 | 50.80 | 0.45 |
| 2 | 38.10 | 88.11 | 65.09 | 0.79 |
| 2 1/2 | 46.04 | 103.19 | 76.20 | 1.36 |
| 3 | 50.80 | 122.24 | 93.66 | 1.97 |
| 3 1/2 | 53.98 | 132.56 | 101.60 | 2.61 |
| 4 | 57.15 | 151.61 | 120.65 | 3.22 |
| 5 | 66.68 | 185.74 | 141.29 | 5.44 |
| 6 | 69.85 | 219.08 | 169.86 | 6.94 |
Dimensions of Thredolet (Class 6000)
| Size in Inches | A | B | C | D | Weight in KG |
| --- | --- | --- | --- | --- | --- |
| 1/4 | 28.58 | 34.13 | 14.29 | | 0.14 |
| 3/8 | 28.58 | 34.13 | 14.29 | | 0.14 |
| 1/2 | 31.75 | 43.66 | 19.05 | | 0.20 |
| 3/4 | 36.51 | 49.61 | 25.40 | | 0.34 |
| 1 | 39.69 | 61.91 | 33.34 | | 0.57 |
| 1 1/4 | 41.28 | 69.06 | 38.10 | | 0.73 |
| 1 1/2 | 42.86 | 82.55 | 49.21 | | 0.88 |
| 2 | 55.03 | 102.39 | 69.85 | | 2.27 |
Dimensions of Thredolet (Size on Size Class 3000 Dimensions)
| Size in Inches | A | B | C | D | Weight in KG |
| --- | --- | --- | --- | --- | --- |
| 1/2 | 25.40 | 34.93 | 23.81 | 15.88 | 0.07 |
| 3/4 | 26.99 | 41.28 | 30.16 | 20.64 | 0.11 |
| 1 | 33.34 | 50.80 | 36.51 | 26.99 | 0.20 |
| 1 1/4 | 33.34 | 60.33 | 44.45 | 34.93 | 0.32 |
| 1 1/2 | 34.93 | 73.03 | 50.80 | 41.28 | 0.41 |
| 2 | 38.10 | 88.90 | 65.09 | 52.39 | 0.64 |
| 2 1/2 | 48.42 | 103.19 | 76.20 | 63.50 | 1.13 |
| 3 | 50.80 | 122.24 | 93.66 | 77.79 | 1.95 |
| 3 1/2 | 53.98 | 136.53 | 112.71 | 90.49 | 2.04 |
| 4 | 57.15 | 153.99 | 120.65 | 103.19 | 3.08 |
| 5 | 61.91 | 184.15 | 133.35 | 133.35 | 4.17 |
| 6 | 69.85 | 220.66 | 146.05 | 146.05 | 7.12 |
| Outlet Sizes | A | B | C | Brazing Surface | F-MIN. MIL-1183 |
| --- | --- | --- | --- | --- | --- |
| 1/4 | 11/16 | 1 | 9/16 | 0.188 | 0.700 |
| 3/8 | 13/16 | 1 1/4 | 3/4 | 0.190 | 0.855 |
| 1/2 | 13/16 | 1 1/4 | 3/4 | 0.190 | 0.855 |
| 3/4 | 1 | 1 7/16 | 7/8 | 0.220 | 1.020 |
| 1 | 1 1/16 | 1 3/4 | 1 1/8 | 0.240 | 1.250 |
| 1 1/4 | 1 1/4 | 2 1/8 | 1 7/16 | 0.270 | 1.535 |
| 1 1/2 | 1 5/16 | 2 9/16 | 1 3/4 | 0.300 | 1.900 |
| 2 | 1 3/8 | 2 7/8 | 2 | 0.330 | 2.160 |
| 2 1/2 | 1 1/2 | 3 1/2 | 2 9/16 | 0.360 | 2.675 |
| 3 | 1 13/16 | 4 1/8 | 3 | 0.384 | 3.215 |
| 4 | 2 1/8 | 5 1/2 | 4 5/16 | 0.437 | 4.400 |
Stainless Steel Brazolet
Applications
Myanmar, Nepal, Thailand, Vietnam, Philippines, Malaysia, Indonesia,
Singapore, Taiwan, Tasmania, Sri Lanka, Bangladesh, Bhutan, Cambodia,
Australia, New Zealand, Afghanistan, Tajikistan, Kyrgyzstan, Kazakhstan,
Uzbekistan, Turkmenistan, Iran, United Arab Emirates(UAE), Saudi Arabia,
Oman, Yemen, Iraq, Azerbaijan, Turkiye, Syria, Lebanon, Israel, Kenya,
Egypt, South Sudan, Eritrea, Djibouti, Ethiopia, Libya, Rwanda, Mali,
Niger, Chad, Central Africa Republic, Nigeria, Cameroon, Somalia, DRC,
Uganda, Tanzania, Angola, Zambia, Madagascar, Malawi, Namibia, Benin,
Zimbabwe, Botswana, Lesotho, South Africa, Algeria, Tunisia, Morocco,
Eswatini, Liberia, Sierra Leone, The Gambia, Senegal, Mozambique, Togo,
Mauritania, Burkina Faso, Ghana, Equatorial Guinea, Jordan, Timor-Leste,
Palestine, Laos, Armenia, Georgia, Maldives, Cyprus, Kuwait, Qatar, Peru,
Bahrain, Brunei, Finland, France, Germany, Ireland, Iceland, UK, US,
Greece, Hungary, Italy, Norway, Poland, Slovakia, Sweden, Canada, Fiji,
Romania, Cuba, Panama, Brazil, Colombia, Chile, Argentina, Venezuela,
Naypyidaw, Kathmandu, Bangkok, Hanoi, Manila, Kuala Lumpur, Jakarta, Tunis,
Jurong East, Taipei City, Hobart, Sri Jayawardenepura Kotte, Dhaka, Thimphu,
Phnom Penh, Canberra, Wellington, Kabul, Dushanbe, Bishkek, Astana, Abuja,
Tashkent, Ashgabat, Tehran, Abu Dhabi, Riyadh, Muscat, Sana'a, Baghdad, Pretoria,
Baku, Ankara, Damascus, Beirut, Jerusalem, Nairobi, Cairo, Juba, Asmara, Rabat,
Djibouti city, Addis Ababa, Tripoli, Kigali, Bamako, Niamey, N'Djamena, Bangui,
Yaoundé, Mogadishu, Kinshasa, Kampala, Dodoma, Luanda, Lusaka, Antananarivo,
Lilongwe, Windhoek, Porto-Novo, Harare, Gaborone, Maseru, Cape Town, Bloemfontein,
Algiers, Mbabane, Lobamba, Monrovia, Freetown, Banjul, Dakar, Maputo, Lomé, Dili,
Nouakchott, Ouagadougou, Accra, Malabo, Amman, Vientiane, Yerevan, Tbilisi, Rome,
Malé, Nicosia, Kuwait City, Doha, Lima, Manama, Bandar Seri Begawan, Paris,
Helsinki, Berlin, Dublin, Reykjavík, London, Washington D.C., Athens, Budapest,
Oslo, Warsaw, Bratislava, Stockholm, Ottawa, Suva, Bucharest, Havana, Panama City,
Brasília, Bogotá, Santiago, Buenos Aires, Caracas, Mumabi, Chennai, Bengaluru,
Kolkata, Hyderabad, Pune, Ahmedabad, Jaipur, Surat, Visakhapatnam, Indore, New Delhi
Lucknow, Nagpur, Kochi, Kanpur, Guwahati, Coimbatore, Noida, Ghaziabad, Patna