ASME B16.9 Equal/Reducing Cross Manufacturers and Suppliers:
ADCO Forge and Fittings is a trusted manufacturer of Buttweld Cross in the industry. They specialize in the production of high-quality pipe fittings that conform to industry standards, such as ASME B16.9. Our Buttweld Crosses are available in different types, including Equal or Straight Cross and Unequal or Reducing Cross.
These products are designed to meet the needs of a wide range of applications, and our expertise in manufacturing high-quality pipe fittings has made us a go-to choice for many businesses
ISO Approved ASME/ANSI B16.9 Equal Cross Manufacturer In India, ASME B16.28 Cross Fitting, MSS SP-43 Straight Cross, Unequal Cross Dimensions Chart, Tolerances, Weight Chart, Thickness Chart, Cad Drawing, Reducing Cross ​
ADCO Forge and Fittings' Buttweld Crosses are designed to meet the requirements of various applications, such as piping systems in chemical plants, oil refineries, and petrochemical plants. The company's Cross Pipe Fittings are available in different sizes, and their dimensions conform to industry standards.
In addition to standard materials like stainless steel and carbon steel, We also produces MSS-SP 43 Crosses made from other materials like copper and brass. These materials are often used in specialized applications where their unique properties offer benefits such as high conductivity or corrosion resistance.
The Buttweld ANSI B16.9 Crosses manufactured by ADCO are widely used in hydraulic systems, where their high-quality construction and precise dimensions are critical for reliable and safe operation. Their Buttweld Crosses are designed to withstand high-pressure applications and provide superior performance even under extreme conditions.
Equal Cross & Reducing Cross
Standard Specifications
Standards
ANSI / ASME B16.9, MSS SP-43, API 590-605
Thickness
SCH10, SCH 20, SCH30, STD SCH40, SCH80, SCH60, XS, SCH100, SCH 120, SCH140, SCH 160, XXS available with NACE MR 01-75
Types
Welded | Seamless | Fabricated
Dimensions
ASME/ ANSI B16.9 | ASME B16.28 | MSS-SP-43 | BS1560 | BS4504 | BS10
Size Range (inches)
Seamless Cross ( 1/2″~24″)
ERW/Fabricated/Welded Cross (1/2″~48″)
Forms
Equal Cross, Straight Cross & Unequal Cross, Reducing Cross
Schedule 40 & Schedule 80 Equal Cross, Straight Cross in Stainless Steel 304/304L, SS 316/316L, SS 904L, Alloy 20, Carbon A234 WPB, Nickel 200, Monel, Inconel, Hastelloy C22, Duplex Steel 2205, Titanium, Copper Nickel, SMO 254, Aluminum, Brass, Cast Iron, Galvanized, MS Unequal Cross, Reducing Cross. Get best Price List.​
ASME B16.9 Buttweld Fittings
Types
If you are looking for ASME B16.9 Buttweld Fittings types, weight chart, size chart, tolerance, and dimensions with drawings then kindly click the below-mentioned forms of pipe fittings as per your requirements to get the complete details. For the quick quote / price list click
here
.
ASME B16.9 Straight Cross & Unequal Cross
Material Grades
| | |
| --- | --- |
| Stainless Steel Cross: | ASTM A403/SA403 WP Gr. 304, 304L, 304H, 310, 310S, 316, 316L, 316H, 316Ti, 317, 317L, 321, 321H, 347, 347H, 446, 904L |
| Carbon Steel Cross: | ASTM A860/SA860, ASTM A234/SA234, WPB, WPBW, WPHY 42, WPHY 46, WPHY 52, WPH 60, WPHY 65 & WPHY 70. |
| Low Temperature Carbon Steel Cross | ASTM A420 WPL3, A420 WPL6 |
| Alloy Steel Cross: | ASTM A234/SA234 Gr. WP 1, WP 5, WP 9, WP 11, WP 12, WP 22, WP 91 |
| Duplex & Super Duplex Cross: | ASTM A815, ASME SA815 UNS S31803, S32205, S32750, S32760. Werkstoff No. 1.4462, 1.4410 |
| Nickel Alloy Cross: | ASTM / ASME SB B366 UNS 2200 ( NICKEL 200 ), UNS 2201 (NICKEL 201 ), UNS 4400 (MONEL 400 ), UNS 8020 ( ALLOY 20 / 20 CB 3, UND 8825 INCONEL (825), UNS 6600 (INCONEL 600 ), UNS 6601 ( INCONEL 601 ), UNS 6625 (INCONEL 625), UNS 10276 ( HASTELLOY C276 ), Cupro Nickel 90/10 ( C70600, 2.0872 ), 70/30 ( C71500, 2.0882) |
| Other Steel Cross: | ASTM B363 Titanium Grade 2 ( R50400, 3.7035 ), Titanium Grade 2 ( N56400, 3.7165 ), ASTM A403 SMO 254/AL-6XN ( S31254, 1.4547 ), AISI 4130 ( G41300, 1.7218 ) |
ASME B16.9 Buttweld Cross
Dimensions Chart
ASME B16.9 Buttweld Equal Cross Dimensions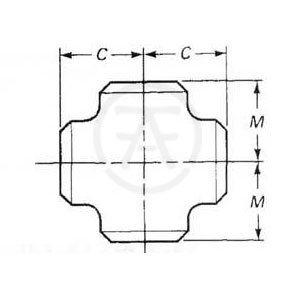 Dimensions and weights of Buttweld Equal Cross (NPS 1/2 to 24, schedule STD/XS)
Nominal Pipe Size (NPS)
DN
Outside Diameter at Bevel
Center- to-End
Run.C
Outlet. M[Notes(1) and (2)]
1/2
15
21.3
25
25
3/4
20
26.7
29
29
1
25
33.4
38
38
1-1/4
32
42.2
48
48
1-1/2
40
48.3
57
57
2
50
60.3
64
64
2-1/2
65
73.0
76
76
3
80
88.9
86
86
3-1/2
90
101.6
95
95
4
100
114.3
105
105
5
125
141.3
124
124
6
150
168.3
143
143
8
200
219.1
178
178
10
250
273.0
216
216
12
300
323.8
254
254
14
350
355.6
279
279
16
400
406.4
305
305
18
450
457
343
343
20
500
508
381
381
22
550
559
419
419
24
600
610
432
432
26
650
660
495
495
28
700
711
521
521
30
750
762
559
559
32
800
813
597
597
34
850
864
635
635
36
900
914
673
673
38
950
965
711
711
40
1000
1016
749
749
42
1050
1067
762
711
44
1100
1118
813
762
46
1150
1168
851
800
48
1200
1219
889
838
ASME B16.9 Buttweld Reducing Cross Dimensions
Dimensions and weights of Buttweld Reducing Cross (NPS 1/2 to 24, schedule STD/XS)
Nominal Diameter
Outside Diameter
Center to End
D1
D2
DN
NPS
Series A
Series B
Series A
Series B
C
M
15×15
1/2×1/2
21.3
18
21.3
18
25
25
15×10
1/2×3/8
21.3
18
17.3
14
25
25
15×8
1/2×1/4
21.3
18
13.7
10
25
25
20×20
3/4×3/4
26.9
25
26.9
25
29
29
20×15
3/4×1/2
26.9
25
21.3
18
29
29
20×10
3/4×3/8
26.9
25
17.3
14
29
29
25×25
1×1
33.7
32
33.7
32
38
38
25×20
1×3/4
33.7
32
26.9
25
38
38
25×15
1×1/2
33.7
32
21.3
18
38
38
32×32
1.1/4×1.1/4
42.4
38
42.4
38
48
48
32×25
1.1/4×1
42.4
38
33.7
32
48
48
32×20
1.1/4×3/4
42.4
38
26.9
25
48
48
32×15
1.1/4×1/2
42.4
38
21.3
18
48
48
40×40
1.1/2×1.1/2
48.3
45
48.3
45
57
57
40×32
1.1/2×1.1/4
48.3
45
42.4
38
57
57
40×25
1.1/2×1
48.3
45
33.7
32
57
57
40×20
1.1/2×3/4
48.3
45
26.9
25
57
57
40×15
1.1/2×1/2
48.3
45
21.3
18
57
57
50×50
2×2
60.3
57
60.3
57
64
64
50×40
2×1.1/2
60.3
57
48.3
45
64
60
50×32
2×1.1/4
60.3
57
42.4
38
64
57
50×25
2×1
60.3
57
33.7
32
64
51
50×20
2×3/4
60.3
57
26.9
25
64
44
65×65
2/1/2×2.1/2
73.0
76
73.0
76
76
76
65×50
2/1/2×2
73.0
76
60.3
57
76
70
65×40
2/1/2×1.1/2
73.0
76
48.3
45
76
67
65×32
2/1/2×1.1/4
73.0
76
42.4
38
76
64
65×25
2/1/2×1
73.0
76
33.7
32
76
57
80×80
3×3
88.9
89
88.9
89
86
86
80×65
3×2.1/2
88.9
89
73.0
76
86
83
80×50
3×2
88.9
89
60.3
57
86
76
80×40
3×1.1/2
88.9
89
48.3
45
86
73
80×32
3×1.1/4
88.9
89
42.4
38
86
70
90×90
3.1/2×3.1/2
101.6
–
101.6
–
95
95
90×80
3.1/2×3
101.6
–
88.9
89
95
92
90×65
3.1/2×2.1/2
101.6
–
73.0
76
95
89
90×50
3.1/2×2
101.6
–
60.3
57
95
83
90×40
3.1/2×1.1/2
101.6
–
48.3
45
95
79
100×100
4×4
114.3
108
114.3
108
105
105
100×90
4×3.1/2
114.3
108
101.6
–
105
102
100×80
4×3
114.3
108
88.9
89
105
98
100×65
4×2.1/2
114.3
108
73.0
76
105
95
100×50
4×2
114.3
108
60.3
57
105
89
100×40
4×1.1/2
114.3
108
48.3
45
105
86
125×125
5×5
141.3
133
141.3
133
124
124
125×100
5×4
141.3
133
114.3
108
124
117
125×90
5×3.1/2
141.3
–
101.6
–
124
114
125×80
5×3
141.3
133
88.9
89
124
111
125×65
5×2.1.2
141.3
133
73.0
76
124
108
125×50
5×2
141.3
133
60.3
57
124
105
150×150
6×6
168.3
159
168.3
159
143
143
150×125
6×5
168.3
159
141.3
133
143
137
150×100
6×4
168.3
159
114.3
108
143
130
150×90
6×3.1/2
168.3
–
101.6
–
143
127
150×80
6×3
168.3
159
88.9
89
143
124
150×65
6×2.1/2
168.3
159
73.0
76
143
121
200×200
8×8
219.1
219
219.1
219
178
178
200×150
8×6
219.1
219
168.3
159
178
168
200×125
8×5
219.1
219
141.4
133
178
162
200×100
8×4
219.1
219
114.3
108
178
156
200×90
8×3.1/2
219.1
–
101.6
–
178
152
250×250
10×10
273.0
273
273.0
273
216
216
250×200
10×8
273.0
273
219.1
219
216
203
250×150
10×6
273.0
273
168.3
159
216
194
250×125
10×5
273.0
273
141.3
133
216
191
250×100
10×4
273.0
273
114.3
108
216
184
300×300
12×12
323.9
325
323.9
325
254
254
300×250
12×10
323.9
325
273.0
273
254
241
300×200
12×8
323.9
325
219.1
219
254
229
300×150
12×6
323.9
325
168.3
159
254
219
300×125
12×5
323.9
325
141.3
133
254
216
350×350
14×14
355.6
377
355.6
377
279
279
350×300
14×12
355.6
377
323.9
325
279
270
350×250
14×10
355.6
377
273.0
273
279
257
350×200
14×8
355.6
377
219.1
219
279
248
350×150
14×6
355.6
377
168.3
159
279
238
400×400
16×16
406.4
426
406.4
426
305
305
400×350
16×14
406.4
426
355.6
377
305
305
400×300
16×12
406.4
426
323.9
325
305
295
400×250
16×10
406.4
426
273.0
273
305
283
400×200
16×8
406.4
426
219.1
219
305
273
400×150
16×6
406.4
426
168.3
159
305
264
450×450
18×18
457
480
457
480
343
343
450×400
18×16
457
480
406.4
426
343
330
450×350
18×14
457
480
355.6
377
343
330
450×300
18×12
457
480
323.9
325
343
321
450×250
18×10
457
480
273.0
273
343
308
450×200
18×8
457
480
219.1
219
343
298
500×500
20×20
508
530
508
530
381
381
500×450
20×20
508
530
457
480
381
368
500×400
20×20
508
530
406.4
426
381
356
500×350
20×20
508
530
355.6
377
381
356
500×300
20×20
508
530
323.9
325
381
346
500×250
20×20
508
530
273.0
273
381
333
500×200
20×20
508
530
219.1
219
381
324
Buttweld Fittings ASME B16.9 Equal Cross, Straight Cross
Tolerance
Buttweld Fittings ASME B16.9 Tolerance
Buttweld Fitting Dimension (NPS)
Outside
Diameter
at Bevel
Inside
Diameter
at End
Wall Thickness T
1/2 to 2-1/2
+0.06
Not less than 87.5%
of nominal thickness
-0.03
3 to 3-1/2
+/- 0.06
+/- 0.06
4
+/- 0.06
+/- 0.06
5 to 8
+/- 0.06
+/- 0.06
10 to 18
+0.16
+/- 0.12
-0.12
20 to 24
+0.25
+/- 0.19
-0.19
26 to 30
+0.25
+/- 0.19
-0.19
32 to 48
+0.25
+/- 0.19
-0.19
ASME/ANSI B16.9
Alignment Tolerances
ASME/ANSI B16.9 Alignment Tolerances (The way that the ends of a fitting are cut)
Exaggerated distortions are shown for clarity in the diagram above
Nominal Pipe Size (NPS)
Off Plane Tolerances, ±
A
Off Angle Tolerances, ±
B
Alignment of Ends, ±
C
in
mm
in
mm
in
mm
½ to 4
0.06
2
0.03
1
0.03
1
5 to 8
0.12
4
0.06
2
0.03
1
10 to 12
0.19
5
0.09
2
0.06
2
14 to 16
0.25
6
0.09
3
0.06
2
18 to 24
0.38
10
0.12
4
0.06
2
26 to 30
0.38
10
0.19
5
–
–
32 to 42
0.50
13
0.19
5
–
–
44 to 48
0.75
19
0.19
5
–
–
MSS SP-43 Unequal Cross / Reducing Cross
Applications
Myanmar, Nepal, Thailand, Vietnam, Philippines, Malaysia, Indonesia,
Singapore, Taiwan, Tasmania, Sri Lanka, Bangladesh, Bhutan, Cambodia,
Australia, New Zealand, Afghanistan, Tajikistan, Kyrgyzstan, Kazakhstan,
Uzbekistan, Turkmenistan, Iran, United Arab Emirates(UAE), Saudi Arabia,
Oman, Yemen, Iraq, Azerbaijan, Turkiye, Syria, Lebanon, Israel, Kenya,
Egypt, South Sudan, Eritrea, Djibouti, Ethiopia, Libya, Rwanda, Mali,
Niger, Chad, Central Africa Republic, Nigeria, Cameroon, Somalia, DRC,
Uganda, Tanzania, Angola, Zambia, Madagascar, Malawi, Namibia, Benin,
Zimbabwe, Botswana, Lesotho, South Africa, Algeria, Tunisia, Morocco,
Eswatini, Liberia, Sierra Leone, The Gambia, Senegal, Mozambique, Togo,
Mauritania, Burkina Faso, Ghana, Equatorial Guinea, Jordan, Timor-Leste,
Palestine, Laos, Armenia, Georgia, Maldives, Cyprus, Kuwait, Qatar, Peru,
Bahrain, Brunei, Finland, France, Germany, Ireland, Iceland, UK, US,
Greece, Hungary, Italy, Norway, Poland, Slovakia, Sweden, Canada, Fiji,
Romania, Cuba, Panama, Brazil, Colombia, Chile, Argentina, Venezuela,
Naypyidaw, Kathmandu, Bangkok, Hanoi, Manila, Kuala Lumpur, Jakarta, Tunis,
Jurong East, Taipei City, Hobart, Sri Jayawardenepura Kotte, Dhaka, Thimphu,
Phnom Penh, Canberra, Wellington, Kabul, Dushanbe, Bishkek, Astana, Abuja,
Tashkent, Ashgabat, Tehran, Abu Dhabi, Riyadh, Muscat, Sana'a, Baghdad, Pretoria,
Baku, Ankara, Damascus, Beirut, Jerusalem, Nairobi, Cairo, Juba, Asmara, Rabat,
Djibouti city, Addis Ababa, Tripoli, Kigali, Bamako, Niamey, N'Djamena, Bangui,
Yaoundé, Mogadishu, Kinshasa, Kampala, Dodoma, Luanda, Lusaka, Antananarivo,
Lilongwe, Windhoek, Porto-Novo, Harare, Gaborone, Maseru, Cape Town, Bloemfontein,
Algiers, Mbabane, Lobamba, Monrovia, Freetown, Banjul, Dakar, Maputo, Lomé, Dili,
Nouakchott, Ouagadougou, Accra, Malabo, Amman, Vientiane, Yerevan, Tbilisi, Rome,
Malé, Nicosia, Kuwait City, Doha, Lima, Manama, Bandar Seri Begawan, Paris,
Helsinki, Berlin, Dublin, Reykjavík, London, Washington D.C., Athens, Budapest,
Oslo, Warsaw, Bratislava, Stockholm, Ottawa, Suva, Bucharest, Havana, Panama City,
Brasília, Bogotá, Santiago, Buenos Aires, Caracas, Mumabi, Chennai, Bengaluru,
Kolkata, Hyderabad, Pune, Ahmedabad, Jaipur, Surat, Visakhapatnam, Indore, New Delhi
Lucknow, Nagpur, Kochi, Kanpur, Guwahati, Coimbatore, Noida, Ghaziabad, Patna