JIS B2220 (5K/10K/2K/16K) Flanges Manufacturers and Suppliers:
JIS2220 is a Japanese Industrial Standard for flanges. The JIS2220 standard specifies the dimensions, materials, and technical requirements for various types of flanges used in piping systems.
The JIS2220 standard includes several classes of flanges, including JIS 5K, JIS 10K, JIS 16K, JIS 20K, and JIS 40K flanges. The number after "JIS" in each class represents the nominal pressure rating of the flange in kilograms per square centimeter (kgf/cm²).
ISO Approved JIS B2220 Flanges Manufacturer In India, JIS B2220 Blind Flange, JIS B2220 2k Flanges, Flange JIS b2220 20k, JIS B2220 5k Flange, JIS B2220 10k Flange, JIS B2220 16k Flange, JIS B2220 40k Flange Dimensions Chart, Tolerances, Weight Chart, Thickness Chart​
JIS 5K flanges are designed for low-pressure applications up to 5 kgf/cm², while JIS 10K flanges are suitable for medium-pressure applications up to 10 kgf/cm². JIS 16K flanges can handle higher pressures up to 16 kgf/cm², and JIS 20K flanges are rated for even higher pressures up to 20 kgf/cm².
Finally, JIS 40K flanges are designed for extremely high-pressure applications up to 40 kgf/cm². These flanges are typically used in oil and gas or petrochemical industries.
All JIS2220 Flanges are available in various materials such as carbon steel, stainless steel, and alloy steel, depending on the application and specific requirements.
JIS B2220 5k Flange
Standard Specifications
Standards
JIS B2220 5K, 10K, 40K, 16K 20K 30K, 63K
Dimensions
JIS G3454, JIS G3456, JIS B2220
JIS B2220 Flanges in Stainless Steel 304/304L, SS 316/316L, SS 904L, Alloy 20, Carbon Steel, Nickel 200, Monel, Inconel, Hastelloy C22, Duplex Steel 2205, Titanium, Copper Nickel, SMO 254, Aluminum, Galvanized, MS JIS B2220 Flange. Get best Price List.​
If you are looking for 5K/10K/2K/16K JIS B2220 Flanges types, weight chart, size chart, tolerance, and dimensions with drawings then kindly click the below-mentioned forms of Flanges as per your requirements to get the complete details. For the quick quote / price list click here.
JIS B2220 40k Flanges
Material Grades
| | |
| --- | --- |
| Stainless Steel JIS B2220 Flange: | ASTM A182 F304, F304H, F304L, F304N, F304LN, F309H, F310, F310H, F310MoLN, F316, F316H, F316L, F316N, F316LN, F316Ti, F317, F317L, F321, F321H, F347, F347H, F348, F348H, 904L |
| Carbon Steel JIS B2220 Flange: | ASTM A105 A53, A106, API 5L |
| Low Temperature Carbon Steel JIS B2220 Flange: | ASTM A350 LF1, LF2, LF3 |
| High Yield Carbon Steel JIS B2220 Flange: | ASTM A694 F42, F52, F60, F65 |
| Alloy Steel JIS B2220 Flange: | ASTM A182 F5, F9, F11, F22, F1, F5/F5a, F91 |
| Duplex & Super Duplex JIS B2220 Flange: | ASTM A182, ASME SA182 Duplex 2205 (UNS S31803 – UNS S32205), Super Duplex 2507 (UNS S32750 – UNS S32760) |
| Nickel Alloy JIS B2220 Flange: | ASTM / ASME SB B160 / B166 / B564 / B425/ B564 UNS 2200 ( NICKEL 200 ), UNS 2201 (NICKEL 201 ), UNS 4400 (MONEL 400 ), UNS 8020 ( ALLOY 20 / 20 CB 3, UNS 8825 INCONEL (825), UNS 6600 (INCONEL 600 ), UNS 6601 ( INCONEL 601 ), UNS 6625 (INCONEL 625), UNS 10276 ( HASTELLOY C276 ), Cupro Nickel 90/10 ( C70600, 2.0872 ), 70/30 ( C71500, 2.0882) |
| Other Steel JIS B2220 Flange: | ASTM B381 Titanium Grade 2 ( R50400, 3.7035 ), Titanium Grade 5 ( N56400, 3.7165 ), ASTM B462 Alloy 20, ASTM A182 SMO 254/AL-6XN ( S31254, 1.4547 ), AISI 4130 ( G41300, 1.7218 ) |
JIS B2220 Flanges
Dimensions & Weight Chart
JIS B2220 Flanges - Dimensions & Weight Chart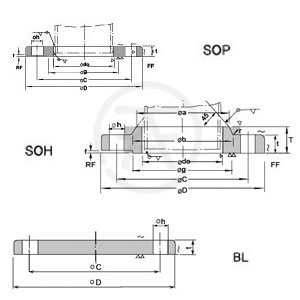 Dimensions & Weight of 5K SOP SOH BL Flange
Nominal
Outside
Inside
Outside
Sectional Dimensions of Flange
Bolt Hole
Nominal
Approx.
Dia. of
Dia. of
Dia. of
Dia. of
t
T
Dia. of Hub
r
Dia. of
Dia. of
Bolt.
Number
Hole
Bolt
Weight
Flange
Steel
Flange
Flange
a
b
Face
Raised Face
Circle
of Bolt
Dia.
Size
(kg)
Pipe
do
D
f
g
Dia
Holes
h
SOP
BL
SOH
10
17.3
17.8
75.0
9
–
–
–
–
1
39
55
4
12
M10
0.26
0.28
–
15
21.7
22.2
80.0
9
–
–
–
–
1
44
60
4
12
M10
0.30
0.32
–
20
27.2
27.7
85.0
10
–
–
–
–
1
49
65
4
12
M10
0.36
0.41
–
25
34.0
34.5
95.0
10
–
–
–
–
1
59
75
4
12
M10
0.45
0.52
–
32
42.7
43.2
115.0
12
–
–
–
–
2
70
90
4
15
M12
0.77
0.91
–
40
48.6
49.1
120.0
12
–
–
–
–
2
75
95
4
15
M12
0.82
1.00
–
50
60.5
61.1
130.0
14
–
–
–
–
2
85
105
4
15
M12
1.06
1.38
–
65
76.3
77.1
155.0
14
–
–
–
–
2
110
130
4
15
M12
1.48
2.00
–
80
89.1
90.0
180.0
14
–
–
–
–
2
121
145
4
19
M16
1.97
2.67
–
(90)
101.6
102.6
190.0
14
–
–
–
–
2
131
155
4
19
M16
2.08
2.99
–
100
114.3
115.4
200.0
16
–
–
–
–
2
141
165
8
19
M16
2.35
3.66
–
125
139.6
141.2
235.0
16
–
–
–
–
2
176
200
8
19
M16
3.20
5.16
–
150
165.2
166.6
265.0
18
–
–
–
–
2
206
230
8
19
M16
4.39
7.47
–
(175)
190.7
192.1
300.0
18
–
–
–
–
2
232
260
8
23
M20
5.42
9.52
–
200
216.3
218.0
320.0
20
–
–
–
–
2
252
280
8
23
M20
6.24
12.10
–
(225)
241.8
243.7
345.0
20
–
–
–
–
2
277
305
12
23
M20
6.57
13.90
–
250
267.4
269.5
385.0
22
–
–
–
–
2
317
345
12
23
M20
9.39
19.20
–
300
318.5
321.0
430.0
22
–
–
–
–
3
360
390
12
23
M20
10.20
24.20
–
350
355.6
358.1
480.0
24
–
–
–
–
3
403
435
12
25
M22
14.00
33.00
–
400
406.4
409.0
540.0
24
–
–
–
–
3
463
495
16
25
M22
16.90
41.70
–
450
457.2
460.0
605.0
24
40
495
500
5
3
523
555
16
25
M22
21.40
52.70
24.90
500
508.0
511.0
655.0
24
40
546
552
5
3
573
605
20
25
M22
23.00
61.60
27.00
(550)
558.8
562.0
720.0
26
42
597
603
5
3
630
665
20
27
M24
30.10
80.80
34.50
600
609.6
613.0
770.0
26
44
648
654
5
3
680
715
20
27
M24
32.50
92.70
37.80
(650)
660.4
664.0
825.0
26(28)
48
702
708
5
3
735
770
24
27
M24
35.60
106(114)
43.20
700
711.2
715.0
875.0
26(30)
48
751
758
5
3
785
820
24
27
M24
38.00
120(138)
45.80
(750)
762.0
766.0
945.0
28(32)
52
802
810
5
3
840
880
24
33
M30
48.40
150(171)
57.70
800
812.8
817.0
995.0
28(34)
52
854
862
5
3
890
930
24
33
M30
51.20
(202)
61.30
(850)
863.6
868.0
1045.0
28(36)
54
904
912
5
3
940
980
24
33
M30
53.90
(237)
65.30
900
914.4
919.0
1095.0
30(36)
56
956
964
5
3
990
1030
24
33
M30
60.70
(260)
73.10
1000
1016.0
1021.0
1195.0
32(40)
60
1058
1066
5
3
1090
1130
28
33
M30
70.10
(345)
84.80
1100
1117.6
1122.0
1305.0
32(44)
71
1158
1170
7
3
1200
1240
28
33
M30
81.60
(454)
105.00
1200
1219.2
1224.0
1420.0
34(48)
77
1260
1272
7
3
1305
1350
32
33
M30
101.00
(586)
129.00
1350
1371.6
1376.0
1575.0
34(48)
80
1414
1426
7
3
1460
1505
32
33
M30
116.00
(814)
151.00
1500
1524.0
1529.0
1730.0
36(58)
86
1568
1580
7
3
1615
1660
36
33
M30
137.00
(1060)
180.00
Dimensions & Weight of JIS B2220 10K SOP SOH BL Flange
Nominal
Outside
Inside
Outside
Sectional Dimensions of Flange
Bolt Hole
Nor
Approx.
Dia. of
Dia. of
Dia. of
Dia. of
t
T
Dia. of Hub
r
Dia. of
Dia. of
Bolt.
Number
Hole
Bolt
Weight
Flange
Steel
Flange
Flange
a
b
Face
Raised Face
Circle
of Bolt
Dia.
Size
(kg)
 
Pipe
do
D
f
g
Dia
Holes
h
 
SOP
BL
SOH
10
17.3
17.8
90.0
12
–
–
–
–
1
46
65
4
15
M12
0.51
0.53
–
15
21.7
22.2
95.0
12
–
–
–
–
1
51
70
4
15
M12
0.56
0.60
–
20
27.2
27.7
100.0
14
–
–
–
–
1
56
75
4
15
M12
0.72
0.79
–
25
34.0
34.5
125.0
14
–
–
–
–
1
67
90
4
19
M16
1.12
1.22
–
32
42.7
43.2
135.0
16
–
–
–
–
2
76
100
4
19
M16
1.47
1.66
–
40
48.6
49.1
140.0
16
–
–
–
–
2
81
105
4
19
M16
1.55
1.79
–
50
60.5
61.1
155.0
16
–
–
–
–
2
96
120
4
19
M16
1.86
2.23
–
65
76.3
77.1
175.0
18
–
–
–
–
2
116
140
4
19
M16
2.58
3.24
–
80
89.1
90.0
185.0
18
–
–
–
–
2
126
150
8
19
M16
2.58
3.48
–
(90)
101.6
102.6
195.0
18
–
–
–
–
2
136
160
8
19
M16
2.73
3.90
–
100
114.3
115.4
210.0
18
–
–
–
–
2
151
175
8
19
M16
3.10
4.57
–
125
139.6
141.2
250.0
20
–
–
–
–
2
182
210
8
23
M20
4.73
7.18
–
150
165.2
166.6
280.0
22
–
–
–
–
2
212
240
8
23
M20
6.30
10.10
–
(175)
190.7
192.1
305.0
22
–
–
–
–
2
237
265
12
23
M20
6.75
11.80
–
200
216.3
218.0
330.0
22
–
–
–
–
2
262
290
12
23
M20
7.46
8.00
–
(225)
241.8
243.7
350.0
22
–
–
–
–
2
282
310
12
23
M20
7.70
15.80
–
250
267.4
269.5
400.0
24
36
288
292
6
2
324
355
12
25
M22
11.80
22.60
12.70
300
318.5
321.0
445.0
24
38
340
346
6
3
368
400
16
25
M22
12.60
27.80
13.80
350
355.6
358.1
490.0
26
42
380
386
6
3
413
445
16
25
M22
16.30
36.90
18.20
400
406.4
409.0
560.0
28
44
436
442
6
3
475
510
16
27
M24
23.20
52.10
25.80
450
457.2
460.0
620.0
30
48
496
502
6
3
530
565
20
27
M24
29.30
68.40
33.40
500
508.0
511.0
675.0
30
48
548
554
6
3
585
620
20
27
M24
33.30
81.60
38.00
(550)
558.8
562.0
745.0
32(34)
52
604
610
6
3
640
680
20
27
M30
42.90
105(112)
49.40
600
609.6
613.0
795.0
32(36)
52
656
662
6
3
690
730
24
33
M30
45.40
120(134)
52.60
(650)
660.4
664.0
845.0
34(38)
56
706
712
6
3
740
780
24
33
M30
51.80
144(161)
60.20
700
711.2
715.0
905.0
34(40)
58
762
770
6
3
800
840
24
33
M30
59.00
176(196)
70.20
(750)
762.0
766.0
970.0
36(44)
62
816
824
6
3
855
900
24
33
M30
72.80
214(248)
86.50
800
812.8
817.0
1020.0
36(46)
64
868
876
6
3
905
950
28
33
M30
76.00
249(286)
92.00
(850)
863.6
868.0
1070.0
36(48)
66
920
928
6
3
955
1000
28
33
M30
80.10
(330)
98.70
900
914.4
919.0
1120.0
38(50)
70
971
979
6
3
1005
1050
28
33
M30
88.90
(377)
110.00
1000
1016.0
1021.0
1235.0
40(56)
74
1073
1081
6
3
1110
1160
28
39
M36
109.00
(512)
133.00
1100
1117.6
1122.0
1345.0
42(62)
95
1175
1185
8
3
1220
1270
28
39
M36
131.00
(675)
175.00
1200
1219.2
1224.0
1465.0
44(66)
101
1278
1290
8
3
1325
1380
32
39
M36
163.00
(854)
215.00
1350
1371.6
1376.0
1630.0
48(74)
110
1432
1450
8
3
1480
1540
36
45
M42
204.00
(1180)
274.00
1500
1524.0
1529.0
1795.0
50(82)
123
1585
1605
8
3
1635
1700
40
45
M42
248.00
(1590)
340.00
Dimensions & Weight of JIS B2220 16K SOH BL Flange
Nominal
Outside
Inside
Outside
Sectional Dimensions of Flange
Bolt Hole
Nominal
Approx.
Dia. of
Dia. of
Dia. of
Dia. of
t
T
Dia. of Hub
r
Dia. of
Dia. of
Bolt.
Number
Hole
Bolt
Weight
Flange
Steel
Flange
Flange
a
b
Face
Raised Face
Circle
of Bolt
Dia.
Size
(kg)
 
Pipe
do
D
f
g
Dia
Holes
h
 
BL
SOH
10
17.3
17.8
90
12
16
26
28
4
1
46
65
4
15
M12
0.53
0.52
15
21.7
22.2
95
12
16
30
32
4
1
51
70
4
15
M12
0.6
0.58
20
27.2
27.7
100
14
20
38
42
4
1
56
75
4
15
M12
0.79
0.75
25
34
34.5
125
14
20
46
50
4
1
67
90
4
19
M16
1.22
1.16
32
42.7
43.2
135
16
22
56
60
5
2
76
100
4
19
M16
1.66
1.53
40
48.6
49.1
140
16
24
62
66
5
2
81
105
4
19
M16
1.79
1.64
50
60.5
61.1
155
16
24
76
80
5
2
96
120
8
19
M16
2.09
1.83
65
76.3
77.1
175
18
26
94
98
5
2
116
140
8
19
M16
3.08
2.58
80
89.1
90
200
20
28
108
112
6
2
132
160
8
23
M20
4.41
3.61
-90
101.6
102.6
210
20
30
120
124
6
2
145
170
8
23
M20
4.92
3.89
100
114.3
115.4
225
22
34
134
138
6
2
160
185
8
23
M20
6.29
4.87
125
139.8
141.2
270
22
34
164
170
6
2
195
225
8
25
M22
9.21
7.09
150
165.2
166.6
305
24
38
196
202
6
2
230
260
12
25
M22
12.7
9.57
200
216.3
218
350
26
40
244
252
6
2
275
305
12
25
M22
18.4
12
250
267.4
269.5
430
28
44
304
312
6
2
345
380
12
27
M24
30.4
20.1
300
318.5
321
480
30
48
354
364
8
3
395
430
16
27
M24
40.5
24.3
350
355.6
358.1
540
34
52
398
408
8
3
440
480
16
33
M30×3
57.5
34.4
400
406.4
409
605
38
60
446
456
10
3
495
540
16
33
M30×3
81.7
47.4
450
457.2
460
675
40
64
504
514
10
3
560
605
20
33
M30×3
107
61.8
500
508
511
730
42
68
558
568
10
3
615
660
20
33
M30×3
132
73.7
-550
558.8
562
795
44
70
612
622
10
3
670
720
20
39
M36×3
163
87.9
600
609.6
613
845
46
74
666
676
10
3
720
770
24
39
M36×3
192
98.4
650
660.4
664
895
48
77
704
726
10
5
770
820
24
39
M36×3
–
–
700
711.2
715
960
50
80
754
776
10
5
820
875
24
42
M39×3
–
–
750
762
766
1020
52
83
806
832
10
5
880
935
24
42
M39×3
–
–
800
812.8
817
1085
54
86
865
885
10
5
930
990
24
48
M45×3
–
–
850
863.6
868
1135
56
89
916
936
10
5
980
1040
24
48
M45×3
–
–
900
914.4
919
1185
58
93
968
986
10
5
1030
1090
28
48
M45×3
–
–
1000
1016
1021
1320
62
99
1070
1098
12
5
1140
1210
28
56
M52×3
–
–
1100
1117.6
1123
1420
66
105
1180
1200
12
15
1240
1310
32
56
M52×3
–
–
1200
1219.2
1225
1530
70
112
1282
1302
12
5
1350
1420
32
56
M52×3
–
–
1300
1320.8
1326
1645
74
–
–
–
–
5
1450
1530
32
62
M56×3
–
–
1350
1371.6
1377
1700
76
–
–
–
–
5
1510
1590
32
62
M56×3
–
–
1400
1422.4
1428
1755
78
–
–
–
–
5
1560
1640
36
62
M56×3
–
–
1500
1524
1529
1865
80
–
–
–
–
5
1670
1750
36
62
M56×3
–
–
Dimensions & Weight of JIS B2220 20K SOH BL Flange
Nominal
Outside
Inside
Outside
Sectional Dimensions of Flange
Bolt Hole
Nom.
Approx.
Dia. of
Dia. of
Dia. of
Dia. of
t
T
Dia. of Hub
r
Dia. of
Dia. of
Bolt.
Num.
Hole
Bolt
Weight
Flange
Steel
Flange
Flange
a
b
Face
Raised Face
Circle
of Bolt
Dia.
Size
(kg)
Pipe
do
D
f
g
Dia
Holes
h
SOH(A)
SOH(B.C)
BL
10
17.3
17.8
90.0
14
20
30
32
4
1
46
65
4
15
M12
0.58
0.58
0.59
15
21.7
22.2
95.0
14
20
34
36
4
1
51
70
4
15
M12
0.65
0.64
0.67
20
27.2
27.7
100.0
16
22
40
42
4
1
56
75
4
15
M12
0.81
0.80
0.86
25
34.0
34.5
125.0
16
24
48
50
4
1
67
90
4
19
M16
1.27
1.26
1.34
32
42.7
43.2
135.0
18
26
56
60
5
2
76
100
4
19
M16
1.58
1.57
1.73
40
48.6
49.1
140.0
18
26
62
66
5
2
81
105
4
19
M16
1.68
1.66
1.87
50
60.5
61.1
155.0
18
26
76
80
5
2
96
120
8
19
M16
1.89
1.86
2.20
65
76.3
77.1
175.0
20
30
100
104
5
2
116
140
8
19
M16
2.73
2.81
3.24
80
89.1
90.0
200.0
22
34
113
117
6
2
132
160
8
23
M20
3.85
3.95
4.63
(90)
101.6
102.6
210.0
24
36
126
130
6
2
145
170
8
23
M20
4.47
4.59
5.67
100
114.3
115.4
225.0
24
36
138
142
6
2
160
185
8
23
M20
5.03
5.18
6.61
125
139.6
141.2
270.0
26
40
166
172
6
2
195
225
8
25
M22
7.94
8.15
10.50
150
165.2
166.6
305.0
28
42
196
202
6
2
230
260
12
25
M22
10.40
10.70
14.40
200
216.3
218.0
350.0
30
46
244
252
6
2
275
305
12
25
M22
13.10
13.60
20.80
250
267.4
269.5
430.0
34
52
304
312
6
2
345
380
12
27
M24
23.10
23.80
36.20
300
318.5
321.0
480.0
36
56
354
364
8
3
395
430
16
27
M24
27.20
28.10
47.40
350
355.6
358.1
540.0
40
62
398
408
8
3
440
480
16
33
M30x3
38.40
39.50
66.10
400
406.4
409.0
605.0
46
70
446
456
10
3
495
540
16
33
M30x3
53.90
55.60
97.00
450
457.2
460.0
675.0
48
78
504
514
10
3
560
605
20
33
M30x3
71.00
72.90
126.00
500
508.0
511.0
730.0
50
84
558
568
10
3
615
660
20
33
M30x3
84.60
86.70
155.00
(550)
558.8
562.0
795.0
52
90
612
622
10
3
670
720
20
39
M36x3
102.00
104.00
190.00
600
609.6
613.0
845.0
54(56)
96
666
676
10
3
720
770
24
39
M36x3
115.00
117.00
223(231)
*650
660.4
664.0
945.0
60
–
–
–
–
5
790
850
24
48
M45x3
–
–
–
*700
711.2
715.0
995.0
64
–
–
–
–
5
840
900
24
48
M45x3
–
–
–
*750
762.0
766.0
1080.0
68
–
–
–
–
5
900
970
24
56
M52x3
–
–
–
*800
812.8
817.0
1140.0
72
–
–
–
–
5
960
1030
24
56
M52x3
–
–
–
*850
863.6
868.0
1200.0
74
–
–
–
–
5
1020
1090
24
56
M52x3
–
–
–
*900
914.4
919.0
1250.0
76
–
–
–
–
5
1070
1140
28
56
M52x3
–
–
–
Dimensions of JIS B2220 Flange Facing
Nominal Diameter of Flange
Flange Sectional Dimensions
Raised Facing (Small)
5K
10K
16K
20K
30K
40K & 63K
g
f
g
f
g
f
g
f
g
f
g
f
g1
f1
10
39
1
46
1
46
1
46
1
52
1
52
1
35
1
15
44
1
51
1
51
1
51
1
55
1
55
1
42
1
20
49
1
56
1
56
1
56
1
60
1
60
1
50
1
25
59
1
67
1
67
1
67
1
70
1
70
1
60
1
32
70
2
76
2
76
2
76
2
80
2
80
2
68
2
40
75
2
81
2
81
2
81
2
90
2
80
2
75
2
50
85
2
96
2
96
2
96
2
105
2
105
2
90
2
65
110
2
116
2
116
2
116
2
130
2
130
2
105
2
80
121
2
126
2
132
2
132
2
140
2
140
2
120
2
90
131
2
136
2
145
2
145
2
150
2
150
2
130
2
100
141
2
151
2
160
2
160
2
160
2
165
2
145
2
125
176
2
182
2
195
2
195
2
195
2
200
2
170
2
150
206
2
212
2
230
2
230
2
235
2
240
2
205
2
175
232
2
237
2
–
–
–
–
–
–
–
–
–
–
200
252
2
262
2
275
2
275
2
280
2
290
2
260
2
225
277
2
282
2
–
–
–
–
–
–
–
–
–
–
250
317
2
324
2
345
2
345
2
345
2
355
2
315
2
300
360
3
368
3
395
3
395
3
405
3
410
3
375
3
350
403
3
413
3
440
3
440
3
450
3
455
3
415
3
400
463
3
475
3
495
3
495
3
510
3
515
3
465
3
450
523
3
530
3
560
3
560
3
–
–
–
–
–
–
500
573
3
585
3
615
3
615
3
–
–
–
–
–
–
550
630
3
640
3
670
3
670
3
–
–
–
–
–
–
600
380
3
690
3
720
3
720
3
–
–
–
–
–
–
650
735
3
740
3
770
5
790
5
–
–
–
–
–
–
700
785
3
800
3
820
5
840
5
–
–
–
–
–
–
750
840
3
855
3
880
5
900
5
–
–
–
–
–
–
800
890
3
905
3
930
5
960
5
–
–
–
–
–
–
850
940
3
955
3
980
5
1020
5
–
–
–
–
–
–
900
990
3
1005
3
1030
5
1070
5
–
–
–
–
–
–
1000
1090
3
1110
3
1140
5
–
–
–
–
–
–
–
–
1100
1200
3
1220
3
1240
5
–
–
–
–
–
–
–
–
1200
1305
3
1325
3
1350
5
–
–
–
–
–
–
–
–
1300
–
–
–
–
1450
5
–
–
–
–
–
–
–
–
1350
1460
3
1480
3
1510
5
–
–
–
–
–
–
–
–
1400
–
–
–
–
1560
5
–
–
–
–
–
–
–
–
1500
1615
3
1635
3
1670
5
–
–
–
–
–
–
–
–
JIS B2220 10k Flanges
Tolerances
Section Of Flanges
Surface Condition
Size Of Basic
Tolerance
Outside diameter (O.D.) D
as forged(1)
300&below
+not specified -2
over 300 thru 600
over 600 thru 1000
over 1000 thru 1500
+not specified -3
over 1500
finish
300&below
1
over 300 thru 600
1.5
over 600 thru 1000
2
over 1000 thru 1500
2.5
over 1500
3
inside diameter (I.D.)
solid flange d(2)
as forged(1)
16&below
1
over 16 thru 63
1.5
over 63 thru 125
2
over 125 thru 150
2.5
over 250 thru 500
3
over 500 thru 1000
4
over 1000
5, 0
slip-on (sorf) flanges do
finish
100&below
+0.5, 0
over 100 thru 400
+1, 0
over 400 thru 600
+1.5, 0
over 600 thru 800
+2.0, 0
over 800 thru 1000
+2.5, 0
over 1000
+3, 0
welding neck (wnrf) flange d
100&below
0, -0.5
over 100 thru 400
0, -1
over 400 thru 600
0, -1.5
over 600 thru 800
0, -2
over 800 thru 1000
0, -2.5
over 1000
0, -3
hole of bolt
diameter of bolt circle c
 
250&below
0.5
over 250 thru 550
0.6
over 550 thru 950
0.8
over 950 thru 1350
1
over 1350
1.5
Section Of Flange
Surface Condition
Basic Size
Dimensional Tolerance
 
 
 
–
0.5
Diameter of hub
Slip-on (sorf)) flange (a) and welding neck (wnrf) flange(d 1)
As forged
220&below
+2, 0
over 220 thru 450
+3, 0
over 450 thru 650
+4, 0
over 650 thru 850
+6, 0
over 850 thru 1000
+7, 0
over 1000
+8, 0
Finish
220&below
+1, 0
over 220 thru 450
+1.5, 0
over 450 thru 650
+2, 0
over 650 thru 850
+2.5, 0
over 850 thru 1000
+3, 0
over 1000
+3.5, 0
Gasket seat
c1,c2,c3, c4
Finish
500&below
0.3
over 500 thru 1000
0.35
over1000 thru 1500
0.4
over1500
0.5
f4f3
Finish
8&below
0.2
over 8
0.25
g
Finish
200&below
0.8
over 200 thru 650
0.9
over 650 thru 1000
1
over 1000
1.2
Thickness of t
Finish – One-side
20&below
+1.5, 0
over 20 thru 50
+2, 0
over50 thru 100
+3, 0
finish – Bolt-side
20&below
+1, 0
over 20 thru 50
+1.5, 0
over 50 thru 100
+2, 0
Hub Height T
Flanges with Pipe Inserted
Finish
50&below
1
over 50 thru 100
1.5
over 100 thru 200
2
Flanges with Bolt-welded Pipes
Finish
over 200&below
+2, 0
over 200 thru 300
+3, 0
JIS B2220 Flanges
Applications
Myanmar, Nepal, Thailand, Vietnam, Philippines, Malaysia, Indonesia,
Singapore, Taiwan, Tasmania, Sri Lanka, Bangladesh, Bhutan, Cambodia,
Australia, New Zealand, Afghanistan, Tajikistan, Kyrgyzstan, Kazakhstan,
Uzbekistan, Turkmenistan, Iran, United Arab Emirates(UAE), Saudi Arabia,
Oman, Yemen, Iraq, Azerbaijan, Turkiye, Syria, Lebanon, Israel, Kenya,
Egypt, South Sudan, Eritrea, Djibouti, Ethiopia, Libya, Rwanda, Mali,
Niger, Chad, Central Africa Republic, Nigeria, Cameroon, Somalia, DRC,
Uganda, Tanzania, Angola, Zambia, Madagascar, Malawi, Namibia, Benin,
Zimbabwe, Botswana, Lesotho, South Africa, Algeria, Tunisia, Morocco,
Eswatini, Liberia, Sierra Leone, The Gambia, Senegal, Mozambique, Togo,
Mauritania, Burkina Faso, Ghana, Equatorial Guinea, Jordan, Timor-Leste,
Palestine, Laos, Armenia, Georgia, Maldives, Cyprus, Kuwait, Qatar, Peru,
Bahrain, Brunei, Finland, France, Germany, Ireland, Iceland, UK, US,
Greece, Hungary, Italy, Norway, Poland, Slovakia, Sweden, Canada, Fiji,
Romania, Cuba, Panama, Brazil, Colombia, Chile, Argentina, Venezuela,
Naypyidaw, Kathmandu, Bangkok, Hanoi, Manila, Kuala Lumpur, Jakarta, Tunis,
Jurong East, Taipei City, Hobart, Sri Jayawardenepura Kotte, Dhaka, Thimphu,
Phnom Penh, Canberra, Wellington, Kabul, Dushanbe, Bishkek, Astana, Abuja,
Tashkent, Ashgabat, Tehran, Abu Dhabi, Riyadh, Muscat, Sana'a, Baghdad, Pretoria,
Baku, Ankara, Damascus, Beirut, Jerusalem, Nairobi, Cairo, Juba, Asmara, Rabat,
Djibouti city, Addis Ababa, Tripoli, Kigali, Bamako, Niamey, N'Djamena, Bangui,
Yaoundé, Mogadishu, Kinshasa, Kampala, Dodoma, Luanda, Lusaka, Antananarivo,
Lilongwe, Windhoek, Porto-Novo, Harare, Gaborone, Maseru, Cape Town, Bloemfontein,
Algiers, Mbabane, Lobamba, Monrovia, Freetown, Banjul, Dakar, Maputo, Lomé, Dili,
Nouakchott, Ouagadougou, Accra, Malabo, Amman, Vientiane, Yerevan, Tbilisi, Rome,
Malé, Nicosia, Kuwait City, Doha, Lima, Manama, Bandar Seri Begawan, Paris,
Helsinki, Berlin, Dublin, Reykjavík, London, Washington D.C., Athens, Budapest,
Oslo, Warsaw, Bratislava, Stockholm, Ottawa, Suva, Bucharest, Havana, Panama City,
Brasília, Bogotá, Santiago, Buenos Aires, Caracas, Mumabi, Chennai, Bengaluru,
Kolkata, Hyderabad, Pune, Ahmedabad, Jaipur, Surat, Visakhapatnam, Indore, New Delhi
Lucknow, Nagpur, Kochi, Kanpur, Guwahati, Coimbatore, Noida, Ghaziabad, Patna