ASME B16.11 Cross Manufacturers and Suppliers:
Forged Cross is a type of pipe fitting that is commonly used in piping systems to provide a branch connection. It is called a "cross" because it has four ends that are all connected at right angles, forming the shape of a cross.
Dimensions of Forged Cross fittings can vary depending on the specific application and pipe size. Forged Cross typically come in a range of sizes and pressure classes to accommodate different piping systems.
ISO Approved ASME/ANSI B16.11 Socket Weld Equal Cross Manufacturer In India, ASME B16.11 Threaded Unequal Cross, MSS SP-79, 83, 95, 97, BS 3799 Forged Cross, Dimensions Chart, Tolerances, Weight Chart, Thickness Chart, Cad Drawing Screwed Threaded Reducing Cross ​
ADCO Forge and Fittings is a trusted manufacturer of high-quality Forged Cross fittings, as well as other types of pipe fittings. We committed to using only the best materials and manufacturing processes to ensure the products meet the highest standards of quality and performance. With years of experience and expertise in the industry, earned a reputation for delivering reliable and durable pipe fittings that are trusted by professionals in a wide range of industries.
There are two main types of Forged Cross fittings: Equal Cross and Unequal Cross. An Equal Cross has four identical ends, while an Unequal Cross has one end that is larger than the other three.
Threaded Tee and Socket Weld Tee are two other types of pipe fittings that are similar to Forged Cross fittings. Threaded Tee has three ends that are all threaded, while Socket Weld Tee has three ends that are designed for socket welding.
Pressure Class refers to the maximum pressure that a pipe fitting can withstand. Forged Cross fittings come in various pressure classes, which are rated based on the maximum pressure they can handle under specific conditions. It is important to choose the appropriate pressure class for a given piping system to ensure safe and reliable operation.
We have the ready inventory of Socket Weld Cross in the different size ranges of 7/8 Npt, 21 Inch, 19 Inch, 20 Inch, 22 Inch, 1 Inch, 2 Inch, 3 Inch, 4 Inch, 5 Inch, 6 Inch Threaded Crosses.
Socket Weld Cross
Standard Specifications
Standards
ANSI / ASME B16.11, MSS SP-79, 83, 95, 97, BS 3799
Pressure Class
2000LBS, 3000LBS, 6000LBS, 9000LBS
Types
Socket Weld (Weld In)| Threaded / Screwed (NPT or BSPP)
Dimensions
ASME/ ANSI B16.11 | MSS-SP-79, 83, 95, 97 | BS3799 | BS4504 | BS10
Forms
Equal/Reducing/Unequal Cross
Forged Cross in Stainless Steel 304/304L, SS 316/316L, 904L, Alloy 20, Carbon A234 WPB, Nickel 200, Monel, Inconel, Hastelloy C22, Duplex Steel 2205, Titanium, Copper Nickel, SMO 254, Aluminum, Brass, Cast Iron, Galvanized, MS Socket Weld & Threaded Cross. Get best Price List.​
ASME B16.11 Forged Fittings
Types
If you are looking for ASME B16.11 Fittings types, weight chart, size chart, tolerance, and dimensions with drawings then kindly click the below-mentioned forms of pipe fittings as per your requirements to get the complete details. For the quick quote / price list click here.
ASME B16.11 Threaded Cross
Material Grades
| | |
| --- | --- |
| Stainless Steel Forged Cross : | ASTM A182/SA182 F304, F304L, F316, F316L, F304H, F316H, F317, F317L, F321, F321H, F347, F347H, F446, F904L |
| Carbon Steel Forged Cross: | ASTM/ ASME A 105  F42, F46, F60, F65, F52, F56, and F70, ASTM/ ASME A 350 LF 2, A350 LF3 |
| Alloy Steel Forged Cross: | ASTM / ASME A 182 GR F5, F 9, F 11, F 12, F 22, F 91 |
| Duplex & Super Duplex Forged Cross: | ASTM A 182 –F51 / F52 / F53 / F54 / F55 / F57 / F59 / F60 / F61 S 31803, S 32205, S 32550, S 32750, S 32760 |
| Nickel Alloy Forged Cross: | ASTM / ASME SB 151, 152, 61, and 62 UNS NO. C 70600 (CU -NI- 90/10) , C 71500 (CU -NI- 70/30) / Nickel Alloy Forged Fittings ASTM / ASME SB 564 / 160 / 163 / 472, UNS 2200 (NICKEL 200) , UNS 2201 (NICKEL 201), UNS 4400 (MONEL 400), UNS 8825 INCONEL (825) , UNS 6600 (INCONEL 600), UNS 6601 (INCONEL 601) , UNS 6625 (INCONEL 625) , UNS 10276 (HASTELLOY C 276), UNS 8020 (ALLOY 20 / 20 CB 3), |
| Brass Forged Cross: | Brass CA 360, CA 345 and CA 377 / SAE J530, SAE J531 and ASA |
ASME B16.11 Forged Cross
Dimensions
ASME B16.11 Cross - Socket Weld - Dimensions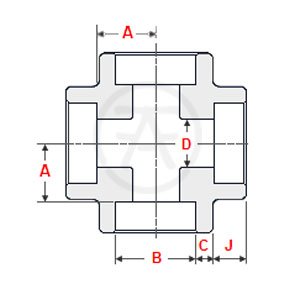 Dimensions of Socket Weld Cross (NPS 1/2 to 4, Class 3000)
NPS
Socket Bore
Depth Socket
Bore dia
Socket
WT
Body
WT
Center to bottom of socket
B
J
D
C
G
A
1/2
21.95
21.70
10
16.6
15
4.65
4.10
3.75
15.5
3/4
27.30
27.05
13
21.7
20.2
4.90
4.25
3.90
19.5
1
34.05
33.80
13
27.4
25.9
5.70
5.00
4.55
22
1.1/4
42.80
42.55
13
35.8
34.3
6.05
5.30
4.85
27
1.1/2
48.90
48.65
13
41.7
40.1
6.35
5.55
5.10
32
2
61.35
61.10
16
53.5
51.7
6.95
6.05
5.55
38
2.1/2
74.20
73.80
16
64.2
61.2
8.75
7.65
7.00
41.5
3
90.15
89.80
16
79.5
46.4
9.50
8.30
7.60
57.5
4
115.80
115.45
19
103.8
100.7
10.70
9.35
8.55
66.5
Dimensions of Socket Weld Cross (NPS 1/2 to 4, Class 6000)
NPS
Socket Bore
Depth Socket
Bore dia
Socket
WT
Body
WT
Center to bottom of socket
B
J
D
C
G
A
1/2
21.95
21.70
10
12.5
11
5.95
5.20
4.80
19.5
3/4
27.30
27.05
13
16.3
14.8
6.95
6.05
5.55
22.5
1
34.05
33.80
13
21.5
19.9
7.90
6.95
6.35
27
1.1/4
42.80
42.55
13
30.2
28.7
7.90
6.95
6.35
32
1.1/2
48.90
48.65
13
34.7
33.2
8.90
7.80
7.15
38
2
61.35
61.10
16
43.6
42.1
10.90
9.50
8.75
41
ASME B16.11 Cross - Threaded - Dimensions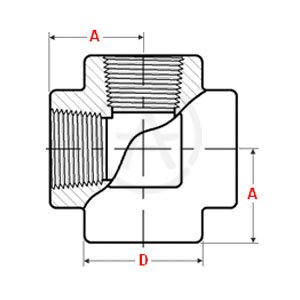 Dimensions of Threaded Cross (NPS 1/2 to 4, Class 2000)
NPS
Min Length of Thread
Outside Dia of Band
D
Center to End
A
Min
WT
B
J
1/2
10.9
13.6
33
28
3.18
3/4
12.7
13.9
38
33
3.18
1
14.7
17.3
46
38
3.68
1.1/4
17
18
56
44
3.89
1.1/2
17.8
18.4
62
51
4.01
2
19
19.2
75
60
4.27
2.1/2
23.6
28.9
92
76
5.61
3
25.9
30.5
109
86
5.99
4
27.7
33
146
106
6.55
Dimensions of Threaded Cross (NPS 1/2 to 4, Class 3000)
NPS
Min Length of Thread
Outside Dia of Band
D
Center to End
A
Min
WT
B
J
1/2
10.9
13.6
38
33
4.09
3/4
12.7
13.9
46
38
4.32
1
14.7
17.3
56
44
4.98
1.1/4
17
18
62
51
5.28
1.1/2
17.8
18.4
75
60
5.56
2
19
19.2
84
64
7.14
2.1/2
23.6
28.9
102
83
7.65
3
25.9
30.5
121
95
8.84
4
27.7
33
152
114
11.18
Dimensions of Threaded Cross (NPS 1/2 to 4, Class 6000)
NPS
Min Length of Thread
Outside Dia of Band
D
Center to End
A
Min
WT
B
J
1/2
10.9
13.6
46
38
8.15
3/4
12.7
13.9
56
44
8.53
1
14.7
17.3
62
51
9.93
1.1/4
17
18
75
60
10.59
1.1/2
17.8
18.4
84
64
11.07
2
19
19.2
102
83
12.09
2.1/2
23.6
28.9
121
95
15.29
3
25.9
30.5
146
106
16.64
4
27.7
33
152
114
18.67
ASME B16.11 Cross Fittings
Tolerance
"A" - Center to bottom of socket
FOR SIZES
1/8" AND 1/4"
± 0.03"
3/8", 1/2" AND 3/4"
± 0.06"
1", 1-1/4", 1-1/2" AND 2"
± 0.08"
2-1/2", 3", AND 4"
± 0.10"
"B" - Bore diameter of socket
FOR SIZES
1-1/2" AND SMALLER
+ 0.020"
- 0.000"
2", 2-1/2", 3" AND 4"
+ 0.025"
- 0.000"
"C" - Socket wall thickness
MINIMUM = 1.09 T (BUT NOT LESS THAN 5/32")
T = WALL THICKNESS OF NOMINAL PIPE
"D" - Bore diameter of fitting
FOR SIZES
2" AND SMALLER
± 0.030"
2-1/2", 3" AND 4"
± 0.060"
"E" - Bottom to bottom of sockets - couplings
FOR SIZES
1/8" AND 1/4"
± 0.06"
3/8", 1/2" AND 3/4"
± 0.12"
1", 1-1/4", 1-1/2" AND 2"
± 0.16"
2-1/2", 3", AND 4"
± 0.20"
"F" - Bottom of socket to opposite face - half couplings
FOR SIZES
1/8" AND 1/4"
± 0.03"
3/8", 1/2" AND 3/4"
± 0.06"
1", 1-1/4", 1-1/2" AND 2"
± 0.08"
2-1/2", 3", AND 4"
± 0.10"
"G" - Welding gap
APPROXIMATELY 0.06"
RECOMMENDED GAP BEFORE WELDING
"H" - Minimum flat
MINIMUM FLAT = 0.75 X MINIMUM
SOCKET WALL THICKNESS
MSS SP-97 Socket Weld Equal Cross
Applications
Myanmar, Nepal, Thailand, Vietnam, Philippines, Malaysia, Indonesia,
Singapore, Taiwan, Tasmania, Sri Lanka, Bangladesh, Bhutan, Cambodia,
Australia, New Zealand, Afghanistan, Tajikistan, Kyrgyzstan, Kazakhstan,
Uzbekistan, Turkmenistan, Iran, United Arab Emirates(UAE), Saudi Arabia,
Oman, Yemen, Iraq, Azerbaijan, Turkiye, Syria, Lebanon, Israel, Kenya,
Egypt, South Sudan, Eritrea, Djibouti, Ethiopia, Libya, Rwanda, Mali,
Niger, Chad, Central Africa Republic, Nigeria, Cameroon, Somalia, DRC,
Uganda, Tanzania, Angola, Zambia, Madagascar, Malawi, Namibia, Benin,
Zimbabwe, Botswana, Lesotho, South Africa, Algeria, Tunisia, Morocco,
Eswatini, Liberia, Sierra Leone, The Gambia, Senegal, Mozambique, Togo,
Mauritania, Burkina Faso, Ghana, Equatorial Guinea, Jordan, Timor-Leste,
Palestine, Laos, Armenia, Georgia, Maldives, Cyprus, Kuwait, Qatar, Peru,
Bahrain, Brunei, Finland, France, Germany, Ireland, Iceland, UK, US,
Greece, Hungary, Italy, Norway, Poland, Slovakia, Sweden, Canada, Fiji,
Romania, Cuba, Panama, Brazil, Colombia, Chile, Argentina, Venezuela,
Naypyidaw, Kathmandu, Bangkok, Hanoi, Manila, Kuala Lumpur, Jakarta, Tunis,
Jurong East, Taipei City, Hobart, Sri Jayawardenepura Kotte, Dhaka, Thimphu,
Phnom Penh, Canberra, Wellington, Kabul, Dushanbe, Bishkek, Astana, Abuja,
Tashkent, Ashgabat, Tehran, Abu Dhabi, Riyadh, Muscat, Sana'a, Baghdad, Pretoria,
Baku, Ankara, Damascus, Beirut, Jerusalem, Nairobi, Cairo, Juba, Asmara, Rabat,
Djibouti city, Addis Ababa, Tripoli, Kigali, Bamako, Niamey, N'Djamena, Bangui,
Yaoundé, Mogadishu, Kinshasa, Kampala, Dodoma, Luanda, Lusaka, Antananarivo,
Lilongwe, Windhoek, Porto-Novo, Harare, Gaborone, Maseru, Cape Town, Bloemfontein,
Algiers, Mbabane, Lobamba, Monrovia, Freetown, Banjul, Dakar, Maputo, Lomé, Dili,
Nouakchott, Ouagadougou, Accra, Malabo, Amman, Vientiane, Yerevan, Tbilisi, Rome,
Malé, Nicosia, Kuwait City, Doha, Lima, Manama, Bandar Seri Begawan, Paris,
Helsinki, Berlin, Dublin, Reykjavík, London, Washington D.C., Athens, Budapest,
Oslo, Warsaw, Bratislava, Stockholm, Ottawa, Suva, Bucharest, Havana, Panama City,
Brasília, Bogotá, Santiago, Buenos Aires, Caracas, Mumabi, Chennai, Bengaluru,
Kolkata, Hyderabad, Pune, Ahmedabad, Jaipur, Surat, Visakhapatnam, Indore, New Delhi
Lucknow, Nagpur, Kochi, Kanpur, Guwahati, Coimbatore, Noida, Ghaziabad, Patna