ASME B16.47 Screwed Threaded Flanges Manufacturers and Suppliers:
Threaded Flanges are a type of flange that has threads on the inner bore for connecting pipes. They are available in various materials such as brass, stainless steel, carbon steel, and cast iron. Threaded flanges can have NPT or BSP threads and come in both male and female versions.
The price of threaded flanges can vary depending on the material and size, with brass being a lower cost option and stainless steel and carbon steel typically being more expensive.
ISO Approved ANSI B16.5 Class 150, Class 300, Class 600, Class 900, Class 1500, Class 2500 Threaded Flanges Manufacturer In India, BS10 Threaded Flange, AWWA C207 Threaded Flange, EN 1092-1 Threaded Flange, Series A and Series B Threaded Flange Dimensions Chart, Tolerances, Weight Chart, Thickness Chart, Cad Drawing​ Screwed Flange
ADCO Forge and Fittings is a most renowned manufacturer of high-quality Threaded Flanges. specialize in producing threaded flanges in a wide range of materials, including carbon steel, stainless steel, and brass. With a focus on precision manufacturing, ensures that threaded flanges meet industry standards and are suitable for a variety of applications. We also offers a range of sizes and customizations to meet specific customer needs.
Threaded flanges are commonly used in applications where there is low pressure and temperature, and where welding is not feasible or desired. They are often used in ANSI 150 and PN16 flange applications, and are available in sizes ranging from DN50 to larger sizes.
In summary, Threaded Flanges are a popular choice for connecting pipes in low-pressure applications, and are available in various materials, sizes, and thread types to suit a range of needs.
Screwed Threaded Flanges
Standard Specifications
Standards
ANSI B16.5, ANSI B16.47, ANSI B16.36, ANSI B16.48, BS 4504, EN1092, UNI 2277/2278, DIN, JIS, SABS1123, GOST-12820
Form
SORF, WNRF, BLRF, SWRF, LAP Joint, Threaded, Reducing, Spectacle
BS/JIS
BS4504 , BS4504, BS1560, BS10,5K, 10K, 16K, 20K, 30K, 40K, 63K
Face Type
Flat Face (FF), Raise Face (RF), Ring Joint (RJT)
Dimensions
ANSI B16.5, ANSI B16.47 Series A & B, MSS SP44, ASA, API-605, AWWA, Custom Drawings
Size Range (inches)
From ½" (15 NB) to 48″ (1200NB)
Class
150 LBS, 300 LBS, 600 LBS, 900 LBS, 1500 LBS, 2500 LBS, DIN Standard ND-6,10, 16, 25, 40.
Connection Type
RTJ, Lap-Joint Face, Raised Face, Flat Face, Large Male-Female, Small Male-Female, Large, Tongue & Groove, Small Tongue & Groove
Screwed Threaded Flanges in Stainless Steel 304/304L, SS 316/316L, SS 904L, Alloy 20, Carbon Steel, Nickel 200, Monel, Inconel, Hastelloy C22, Duplex Steel 2205, Titanium, Copper Nickel, SMO 254, Aluminum, Galvanized, MS Threaded Flange. Get best Price List.​
ASME B16.47 Flanges
Types
If you are looking for ASME B16.47 Pipe Flanges types, weight chart, size chart, tolerance, and dimensions with drawings then kindly click the below-mentioned forms of Flanges as per your requirements to get the complete details. For the quick quote / price list click here.
ASME B16.5 Threaded Flanges
Material Grades
| | |
| --- | --- |
| Stainless Steel Threaded Flange: | ASTM A182 F304, F304H, F304L, F304N, F304LN, F309H, F310, F310H, F310MoLN, F316, F316H, F316L, F316N, F316LN, F316Ti, F317, F317L, F321, F321H, F347, F347H, F348, F348H, 904L |
| Carbon Steel Threaded Flange: | ASTM A105 A53, A106, API 5L |
| Low Temperature Carbon Steel Threaded Flange: | ASTM A350 LF1, LF2, LF3 |
| High Yield Carbon Steel Threaded Flange: | ASTM A694 F42, F52, F60, F65 |
| Alloy Steel Threaded Flange: | ASTM A182 F5, F9, F11, F22, F1, F5/F5a, F91 |
| Duplex & Super Duplex Threaded Flange: | ASTM A182, ASME SA182 Duplex 2205 (UNS S31803 – UNS S32205), Super Duplex 2507 (UNS S32750 – UNS S32760) |
| Nickel Alloy Threaded Flange: | ASTM / ASME SB B160 / B166 / B564 / B425/ B564 UNS 2200 ( NICKEL 200 ), UNS 2201 (NICKEL 201 ), UNS 4400 (MONEL 400 ), UNS 8020 ( ALLOY 20 / 20 CB 3, UNS 8825 INCONEL (825), UNS 6600 (INCONEL 600 ), UNS 6601 ( INCONEL 601 ), UNS 6625 (INCONEL 625), UNS 10276 ( HASTELLOY C276 ), Cupro Nickel 90/10 ( C70600, 2.0872 ), 70/30 ( C71500, 2.0882) |
| Other Steel Threaded Flange: | ASTM B381 Titanium Grade 2 ( R50400, 3.7035 ), Titanium Grade 5 ( N56400, 3.7165 ), ASTM B462 Alloy 20, ASTM A182 SMO 254/AL-6XN ( S31254, 1.4547 ), AISI 4130 ( G41300, 1.7218 ) |
ANSI B16.5 Threaded Flanges
Dimensions Chart
ASME B16.5 Threaded Flange - Dimensions Chart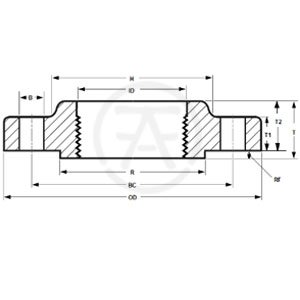 Dimensions of Class 150 Threaded Flanges as per ASME B16.5 ((NPS 1/2 to 24)
FLANGE
NPS
Inside
Diameter
Outside
Diameter
Bolt Circle (BC)
Raised Face (R)
Raised Face (RF)
H
Raised Face Thickness (T)
T1
Flat Face Thickness (T2)
Bolt Hole (B)
No. of Bolt Holes
1/2″
0.93″
3.50″
2.38″
1.38″
.063″
1.19″
.62″
.38″
.56″
.62″
4
3/4″
1.14″
3.88″
2.75″
1.69″
.063″
1.50″
.62″
.44″
.56″
.62″
4
1″
1.41″
4.25″
3.12″
2.00″
.063″
1.94″
.69″
.50″
.63″
.62″
4
1-1/4″
1.75″
4.62″
3.50″
2.50″
.063″
2.31″
.81″
.56″
.75″
.62″
4
1-1/2″
1.99″
5.00″
3.88″
2.88″
.063″
2.56″
.88″
.62″
.82″
.62″
4
2″
2.50″
6.00″
4.75″
3.62″
.063″
3.06″
1.00″
.69″
.94″
.75″
4
2-1/2″
3.00″
7.00″
5.50″
4.12″
.063″
3.56″
1.12″
.82″
1.06″
.75″
4
3″
3.63″
7.50″
6.00″
5.00″
.063″
4.25″
1.19″
.88″
1.13″
.75″
4
3-1/2″
4.13″
8.50″
7.00″
5.50″
.063″
4.81″
1.25″
.88″
1.19″
.75″
8
4″
4.63″
9.00″
7.50″
6.19″
.063″
5.31″
1.31″
.88″
1.25″
.75″
8
5″
5.69″
10.00″
8.50″
7.31″
.063″
6.44″
1.44″
.88″
1.38″
.88″
8
6″
6.75″
11.00″
9.50″
8.50″
.063″
7.56″
1.56″
.94″
1.50″
.88″
8
8″
8.75″
13.50″
11.75″
10.62″
.063″
9.69″
1.75″
1.06″
1.69″
.88″
8
10″
10.88″
16.00″
14.25″
12.75″
.063″
12.00″
1.94″
1.13″
1.88″
1.00″
12
12″
12.94″
19.00″
17.00″
15.00″
.063″
14.38″
2.19″
1.19″
2.13″
1.00″
12
14″
14.19″
21.00″
18.75″
16.25″
.063″
15.75″
2.25″
1.32″
2.19″
1.12″
12
16″
16.19″
23.50″
21.25″
18.50″
.063″
18.00″
2.50″
1.38″
2.44″
1.12″
16
18″
18.19″
25.00″
22.75″
21.00″
.063″
19.88″
2.69″
1.50″
2.63″
1.25″
16
20″
20.19″
27.50″
25.00″
23.00″
.063″
22.00″
2.88″
1.63″
2.83″
1.25″
20
22″
22.19″
29.50″
27.25″
25.25″
.063″
24.25″
3.13″
1.75″
3.07″
1.38″
20
24″
24.19″
32.00″
29.50″
27.25″
.063″
26.12″
3.25″
1.82″
3.19″
1.38″
20
Dimensions of Class 300 Threaded Flanges as per ASME B16.5 ((NPS 1/2 to 24)
FLANGE
NPS
Inside
Diameter
Outside
Diameter
Bolt Circle (BC)
Raised Face (R)
Raised Face (RF)
H
Raised Face Thickness (T)
T1
Flat Face Thickness (T2)
Bolt Hole (B)
No. of Bolt Holes
1/2″
0.93″
3.75″
2.62″
1.38″
.063″
1.50″
0.88″
0.50″
0.82″
0.62″
4
3/4″
1.14″
4.62″
3.25″
1.69″
.063″
1.88″
1.00″
.056″
0.94″
0.75″
4
1″
1.41″
4.88″
3.50″
2.00″
.063″
2.12″
1.06″
0.63″
1.00″
0.75″
4
1-1/4″
1.75″
5.25″
3.88″
2.50″
.063″
2.50″
1.06″
0.69″
1.00″
0.75″
4
1-1/2″
1.99″
6.12″
4.50″
2.88″
.063″
2.75″
1.19″
0.75″
1.13″
0.88″
4
2″
2.50″
6.50″
5.00″
3.62″
.063″
3.31″
1.31″
0.82″
1.25″
0.75″
8
2-1/2″
3.00″
7.50″
5.88″
4.12″
.063″
3.94″
1.50″
0.94″
1.44″
0.88″
8
3″
3.63″
8.25″
6.62″
5.00″
.063″
4.62″
1.69″
1.06″
1.63″
0.88″
8
3-1/2″
4.13″
9.00″
7.25″
5.50″
.063″
5.25″
1.75″
1.13″
1.69″
0.88″
8
4″
4.63″
10.00″
7.88″
6.19″
.063″
5.75″
1.88″
1.19″
1.82″
0.88″
8
5″
5.69″
11.00″
9.25″
7.31″
.063″
7.00″
2.00″
1.32″
1.94″
0.88″
8
6″
6.75″
12.50″
10.62″
8.50″
.063″
8.12″
2.06″
1.38″
2.00″
0.88″
12
8″
8.75″
15.00″
13.00″
10.62″
.063″
10.25″
2.44″
1.56″
2.38″
1.00″
12
10″
10.88″
17.50″
15.25″
12.75″
.063″
12.62″
2.62″
1.82″
2.56″
1.12″
16
12″
12.94″
20.50″
17.75″
15.00″
.063″
14.75″
2.88″
1.94″
2.82″
1.25″
16
14″
14.19″
23.00″
20.25″
16.25″
.063″
16.75″
3.00″
2.06″
2.94″
1.25″
20
16″
16.19″
25.50″
22.50″
18.50″
.063″
19.00″
3.25″
2.19″
3.19″
1.38″
20
18″
18.19″
28.00″
24.75″
21.00″
.063″
21.00″
3.50″
2.32″
3.44″
1.38″
24
20″
20.19″
30.50″
27.00″
23.00″
.063″
23.12″
3.75″
2.44″
3.69″
1.38″
24
22″
22.19″
33.00″
29.25″
25.25″
.063″
25.25″
4.00″
2.57″
3.94″
1.63″
24
24″
24.19″
36.00″
32.00″
27.25″
.063″
27.62″
4.19″
2.69″
4.13″
1.62″
24
Dimensions of Class 400 Threaded Flanges as per ASME B16.5 ((NPS 1/2 to 24)
FLANGE
NPS
Inside
Diameter
Outside
Diameter
Bolt Circle (BC)
Raised Face (R)
Raised Face (RF)
H
Raised Face Thickness (T)
T1
Flat Face Thickness (T2)
Bolt Hole (B)
No. of Bolt Holes
1/2″
0.93″
3.75″
2.62″
0.12″
.250″
1.50″
1.13″
0.56″
0.88″
0.62″
4
3/4″
1.14″
4.62″
3.25″
0.12″
.250″
1.88″
1.25″
0.62″
1.00″
0.75″
4
1″
1.41″
4.88″
3.50″
0.12″
.250″
2.12″
1.31″
0.69″
1.06″
0.75″
4
1-1/4″
1.75″
5.25″
3.88″
0.19″
.250″
2.50″
1.37″
0.81″
1.12″
0.75″
4
1-1/2″
1.99″
6.12″
4.50″
0.25″
.250″
2.75″
1.50″
0.88″
1.25″
0.88″
4
2″
2.50″
6.50″
5.00″
0.31″
.250″
3.31″
1.69″
1.00″
1.44″
0.75″
8
2-1/2″
3.00″
7.50″
5.88″
0.31″
.250″
3.94″
1.87″
1.12″
1.62″
0.88″
8
3″
3.63″
8.25″
6.62″
0.38″
.250″
4.62″
2.06″
1.25″
1.81″
0.88″
8
3-1/2″
4.13″
9.00″
7.25″
0.38″
.250″
5.25″
2.19″
1.38″
1.94″
1.00″
8
4″
4.63″
10.00″
7.88″
0.44″
.250″
5.75″
2.25″
1.38″
2.00″
1.00″
8
5″
5.69″
11.00″
9.25″
0.44″
.250″
7.00″
2.37″
1.50″
2.12″
1.00″
8
6″
6.75″
12.50″
10.62″
0.50″
.250″
8.12″
2.50″
1.62″
2.25″
1.00″
12
8″
8.75″
15.00″
13.00″
0.50″
.250″
10.25″
2.94″
1.88″
2.69″
1.12″
12
10″
10.88″
17.50″
15.25″
0.50″
.250″
12.62″
3.13″
2.12″
2.88″
1.25″
16
12″
12.94″
20.50″
17.75″
0.50″
.250″
14.75″
3.37″
2.25″
3.12″
1.38″
16
14″
14.19″
23.00″
20.25″
0.50″
.250″
16.75″
3.56″
2.38″
3.31″
1.38″
20
16″
16.19″
25.50″
22.50″
0.50″
.250″
19.00″
3.94″
2.50″
3.69″
1.50″
20
18″
18.19″
28.00″
24.75″
0.50″
.250″
21.00″
4.13″
2.62″
3.88″
1.50″
24
20″
20.19″
30.50″
27.00″
0.50″
.250″
23.12″
4.25″
2.75″
4.00″
1.62″
24
22″
22.19″
33.00″
29.25″
0.50″
.250″
25.25″
4.50″
2.88″
4.25″
1.75″
24
24″
24.19″
36.00″
32.00″
0.50″
.250″
27.62″
4.75″
3.00″
4.50″
1.88″
24
Dimensions of Class 600 Threaded Flanges as per ASME B16.5 ((NPS 1/2 to 24)
FLANGE
NPS
Inside
Diameter
Outside
Diameter
Bolt Circle (BC)
Raised Face (R)
Raised Face (RF)
H
Raised Face Thickness (T)
T1
Flat Face Thickness (T2)
Bolt Hole (B)
No. of Bolt Holes
1/2″
0.93″
3.75″
2.62″
1.38″
.250″
1.50″
1.13″
0.56″
0.88″
0.62″
4
3/4″
1.14″
4.62″
3.25″
1.69″
.250″
1.88″
1.25″
0.62″
1.00″
0.75″
4
1″
1.41″
4.88″
3.50″
2.00″
.250″
2.12″
1.31″
0.69″
1.06″
0.75″
4
1-1/4″
1.75″
5.25″
3.88″
2.50″
.250″
2.50″
1.37″
0.81″
1.12″
0.75″
4
1-1/2″
1.99″
6.12″
4.50″
2.88″
.250″
2.75″
1.50″
0.88″
1.25″
0.88″
4
2″
2.50″
6.50″
5.00″
3.62″
.250″
3.31″
1.69″
1.00″
1.44″
0.75″
8
2-1/2″
3.00″
7.50″
5.88″
4.12″
.250″
3.94″
1.87″
1.12″
1.62″
0.88″
8
Dimensions of Class 900 Threaded Flanges as per ASME B16.5 ((NPS 1/2 to 24)
FLANGE
NPS
Inside
Diameter
Outside
Diameter
Bolt Circle (BC)
Raised Face (R)
Raised Face (RF)
H
Raised Face Thickness (T)
T1
Flat Face Thickness (T2)
Bolt Hole (B)
No. of Bolt Holes
1/2″
0.93″
4.75″
3.25″
1.38″
.250″
1.50″
1.50″
0.88″
1.25″
0.88″
4
3/4″
1.14″
5.13″
3.50″
1.69″
.250″
1.75″
1.63″
1.00″
1.38″
0.88″
4
1″
1.41″
5.88″
4.00″
2.00″
.250″
2.06″
1.88″
1.13″
1.63″
1.00″
4
1-1/4″
1.75″
6.25″
4.38″
2.50″
.250″
2.50″
1.88″
1.13″
1.63″
1.00″
4
1-1/2″
1.99″
7.00″
4.88″
2.88″
.250″
2.75″
2.00″
1.25″
1.75″
1.13″
4
2″
2.50″
8.50″
6.50″
3.63″
.250″
4.13″
2.50″
1.50″
2.25″
1.00″
8
2-1/2″
3.00″
9.63″
7.50″
4.13″
.250″
4.88″
2.75″
1.63″
2.50″
1.13″
8
3″
3.63″
9.50″
7.50″
5.00″
.250″
5.00″
2.38″
1.50″
2.13″
1.00″
8
4″
4.63″
11.50″
9.25″
6.19″
.250″
6.25″
3.00″
1.75″
2.75″
1.25″
8
5″
5.69″
13.75″
11.00″
7.31″
.250″
7.50″
3.38″
3.00″
3.13″
1.38″
8
6″
6.75″
15.00″
12.50″
8.50″
.250″
9.25″
3.63″
2.19″
3.38″
1.25″
12
8″
8.75″
18.50″
15.50″
10.63″
.250″
11.75″
4.25″
2.50″
4.00″
1.50″
12
10″
10.88″
21.50″
18.50″
12.75″
.250″
14.50″
4.50″
2.75″
4.25″
1.50″
16
12″
12.94″
24.00″
21.00″
15.00″
.250″
16.50″
4.88″
3.13″
4.63″
1.50″
20
14″
14.19″
25.25″
22.00″
16.25″
.250″
17.75″
5.38″
3.38″
5.13″
1.63″
20
16″
16.19″
27.75″
24.25″
18.50″
.250″
20.00″
5.50″
3.50″
5.25″
1.75″
20
18″
18.19″
31.00″
27.00″
21.00″
.250″
22.25″
6.25″
4.00″
6.00″
2.00″
20
20″
20.19″
33.75″
29.50″
23.00″
.250″
24.50″
6.50″
4.25″
6.25″
2.13″
20
24″
24.19″
41.00″
35.50″
27.25″
.250″
29.50″
8.25″
5.50″
8.00″
2.63″
20
Dimensions of Class 1500 Threaded Flanges as per ASME B16.5 ((NPS 1/2 to 24)
FLANGE
NPS
Inside
Diameter
Outside
Diameter
Bolt Circle (BC)
Raised Face (R)
Raised Face (RF)
H
Raised Face Thickness (T)
T1
Flat Face Thickness (T2)
Bolt Hole (B)
No. of Bolt Holes
1/2″
0.93″
4.75″
3.25″
1.38″
.250″
1.50″
1.50″
0.88″
1.25″
0.88″
4
3/4″
1.14″
5.13″
3.50″
1.69″
.250″
1.75″
1.63″
1.00″
1.38″
0.88″
4
1″
1.41″
5.88″
4.00″
2.00″
.250″
2.06″
1.88″
1.13″
1.63″
1.00″
4
1-1/4″
1.75″
6.25″
4.38″
2.50″
.250″
2.50″
1.88″
1.13″
1.63″
1.00″
4
1-1/2″
1.99″
7.00″
4.88″
2.88″
.250″
2.75″
2.00″
1.25″
1.75″
1.13″
4
2″
2.50″
8.50″
6.50″
3.63″
.250″
4.13″
2.50″
1.50″
2.25″
1.00″
8
2-1/2″
3.00″
9.63″
7.50″
4.13″
.250″
4.88″
2.75″
1.63″
2.50″
1.13″
8
Dimensions of Class 2500 Threaded Flanges as per ASME B16.5 ((NPS 1/2 to 24)
FLANGE
NPS
Inside
Diameter
Outside
Diameter
Bolt Circle (BC)
Raised Face (R)
Raised Face (RF)
H
Raised Face Thickness (T)
T1
Flat Face Thickness (T2)
Bolt Hole (B)
No. of Bolt Holes
1/2″
0.93″
5.25″
3.50″
1.38″
.250″
1.69″
1.81″
1.19″
1.56″
0.88″
4
3/4″
1.14″
5.50″
3.75″
1.69″
.250″
2.00″
1.94″
1.25″
1.69″
0.88″
4
1″
1.41″
6.25″
4.25″
2.00″
.250″
2.25″
2.13″
1.38″
1.88″
1.00″
4
1-1/4″
1.75″
7.25″
5.13″
2.50″
.250″
2.88″
2.31″
1.50″
2.06″
1.13″
4
1-1/2″
1.99″
8.00″
5.75″
2.88″
.250″
3.13″
2.63″
1.75″
2.38″
1.25″
4
2″
2.50″
9.25″
6.75″
3.63″
.250″
3.75″
3.00″
2.00″
2.75″
1.13″
8
2-1/2″
3.00″
10.50″
7.75″
4.13″
.250″
4.50″
3.38″
2.25″
3.13″
1.25″
8
Threaded Flanges ASME B16.47
Tolerance
THREADED FLANGES
O
Outside Diameter
When O is 24″ or less
When O is over 24″
±0.06″ ±0.12″
±1.6 mm
±3.2 mm
R
Diameter of Contact Face
0.06″ (1.6 mm) raised face 0.25″ (6.4 mm) raised face
±0.03″ ±0.02″
±0.8 mm
±0.5 mm
B
Inside Diameter at Face of Socket Welding Flanges

Inside Diameter of Slip-On, Lap Joint, and Socket Welding

NPS 10 and smaller
NPS 12 through 18, inclusive NPS 20 and larger
±0.03″ ±0.06″ +0.12″, -0.06″
±0.8 mm
±1.6 mm
+3.2 mm, -1.6 mm
NPS 10 and smaller
NPS 12 and larger
+0.03″, -0.00″ +0.06″, -0.00″
+0.8 mm, -0.0
+1.6 mm, -0.0 mm
Q
Counterbore, Threaded Flanges
NPS 10 and smaller
NPS 12 and larger
+0.03″, -0.00″ +0.06″, -0.00″
+0.8 mm, -0.0
+ 1.6 mm, -0.0 mm
X
Diameter of Hub at Base
NPS 12 and smaller
NPS 14 and larger
+0.09″, -0.06″ ±0.12″
+2.4 mm, -1.6
±3.2 mm
c
Thickness
NPS 18 and smaller
NPS 20 and larger
+0.12″, -0.00″ +0.19″, -0.00″
+3.2 mm, -0.0
+4.8 mm, -0.0 mm
Drilling
Bolt Circle Diameter Bolt Hole Spacing
±0.06″ ±0.03″
±1.6 mm
±0.8 mm
Eccentricity of Bolt Circle and Facing with Respect to Bore
NPS 2V2 and smaller
NPS 3 and larger
±0.03″ ±0.06″
±0.8 mm
±1.6 mm
Overall Length Through Hub
NPS 18 and smaller
NPS 20 and larger
+0.12", -0.03"
+0.19", -0.03"
+3.2 mm, -0.8 mm
+4.8 mm, -1.6 mm
MSS SP-44 Threaded Flanges
Applications
Myanmar, Nepal, Thailand, Vietnam, Philippines, Malaysia, Indonesia,
Singapore, Taiwan, Tasmania, Sri Lanka, Bangladesh, Bhutan, Cambodia,
Australia, New Zealand, Afghanistan, Tajikistan, Kyrgyzstan, Kazakhstan,
Uzbekistan, Turkmenistan, Iran, United Arab Emirates(UAE), Saudi Arabia,
Oman, Yemen, Iraq, Azerbaijan, Turkiye, Syria, Lebanon, Israel, Kenya,
Egypt, South Sudan, Eritrea, Djibouti, Ethiopia, Libya, Rwanda, Mali,
Niger, Chad, Central Africa Republic, Nigeria, Cameroon, Somalia, DRC,
Uganda, Tanzania, Angola, Zambia, Madagascar, Malawi, Namibia, Benin,
Zimbabwe, Botswana, Lesotho, South Africa, Algeria, Tunisia, Morocco,
Eswatini, Liberia, Sierra Leone, The Gambia, Senegal, Mozambique, Togo,
Mauritania, Burkina Faso, Ghana, Equatorial Guinea, Jordan, Timor-Leste,
Palestine, Laos, Armenia, Georgia, Maldives, Cyprus, Kuwait, Qatar, Peru,
Bahrain, Brunei, Finland, France, Germany, Ireland, Iceland, UK, US,
Greece, Hungary, Italy, Norway, Poland, Slovakia, Sweden, Canada, Fiji,
Romania, Cuba, Panama, Brazil, Colombia, Chile, Argentina, Venezuela,
Naypyidaw, Kathmandu, Bangkok, Hanoi, Manila, Kuala Lumpur, Jakarta, Tunis,
Jurong East, Taipei City, Hobart, Sri Jayawardenepura Kotte, Dhaka, Thimphu,
Phnom Penh, Canberra, Wellington, Kabul, Dushanbe, Bishkek, Astana, Abuja,
Tashkent, Ashgabat, Tehran, Abu Dhabi, Riyadh, Muscat, Sana'a, Baghdad, Pretoria,
Baku, Ankara, Damascus, Beirut, Jerusalem, Nairobi, Cairo, Juba, Asmara, Rabat,
Djibouti city, Addis Ababa, Tripoli, Kigali, Bamako, Niamey, N'Djamena, Bangui,
Yaoundé, Mogadishu, Kinshasa, Kampala, Dodoma, Luanda, Lusaka, Antananarivo,
Lilongwe, Windhoek, Porto-Novo, Harare, Gaborone, Maseru, Cape Town, Bloemfontein,
Algiers, Mbabane, Lobamba, Monrovia, Freetown, Banjul, Dakar, Maputo, Lomé, Dili,
Nouakchott, Ouagadougou, Accra, Malabo, Amman, Vientiane, Yerevan, Tbilisi, Rome,
Malé, Nicosia, Kuwait City, Doha, Lima, Manama, Bandar Seri Begawan, Paris,
Helsinki, Berlin, Dublin, Reykjavík, London, Washington D.C., Athens, Budapest,
Oslo, Warsaw, Bratislava, Stockholm, Ottawa, Suva, Bucharest, Havana, Panama City,
Brasília, Bogotá, Santiago, Buenos Aires, Caracas, Mumabi, Chennai, Bengaluru,
Kolkata, Hyderabad, Pune, Ahmedabad, Jaipur, Surat, Visakhapatnam, Indore, New Delhi
Lucknow, Nagpur, Kochi, Kanpur, Guwahati, Coimbatore, Noida, Ghaziabad, Patna