Alloy Steel ASTM A182 F11 Flanges Manufacturers and Suppliers:
Alloy Steel A182 F11 Flanges are commonly used in high-temperature and high-pressure applications, such as in the oil and gas industry, chemical processing plants, and power generation facilities. They are designed to connect pipes or other components together and provide a secure and leak-proof seal.
We known for high-quality manufacturing processes, which include the use of advanced technology and equipment to ensure that every product meets or exceeds industry standards. We have a team of experienced engineers and technicians who work closely with customers to design and manufacture custom flanges to exact specifications.
ISO Approved Alloy Steel A182 F11 Flanges Manufacturer In India, ASME SA182 F11 Blind Flange Dimensions & Weight Chart, Tolerances, Thickness, Cad Drawing, UNS K11597 Pipe Flange​ ​ ​
ADCO Forge and Fittings is a company that specializes in the manufacturing of various types of flanges, including Alloy Steel A182 F11 Flanges. These flanges are made from a specific type of alloy steel that provides excellent strength, durability, and corrosion resistance.
In addition to Alloy Steel A182 F11 Flanges, also produces a wide range of other types of flanges, including stainless steel, carbon steel, and nickel alloy flanges. We committed to providing its customers with the highest level of service and quality, and has a reputation for delivering products on time and on budget.
Overall, We are reliable and trusted manufacturer of Alloy Steel A182 F11 Flanges and other types of flanges. With its dedication to quality and customer satisfaction, ADCO Forge is a top choice for customers in a variety of industries around the world.
We have the ready inventory of ASTM A182 Alloy Steel F11 Flanges in the different size ranges of 2 Inch, 3 Inch, 4 Inch, 6 Inch ASTM A182 F11 Flanges .
Alloy Steel ASTM A182 F11 Flanges
Standard Specifications
Standards
ASTM A182 / ASME SA182 Alloy Steel F5 Flanges, ANSI B16.5, ANSI B16.47, ANSI B16.36, ANSI B16.48, BS 4504, EN1092, UNI 2277/2278, DIN, JIS, SABS1123, GOST-12820
Din
DIN2527, DIN2566, DIN2573, DIN2576, DIN2641, DIN2642, DIN2655, DIN2656, DIN2627, DIN2628, DIN2629,  DIN2638, DIN2673
Class
150 LBS, 300 LBS, 600 LBS, 900 LBS, 1500 LBS, 2500 LBS, DIN Standard ND-6,10, 16, 25, 40.
JIS/UNI/BS
5K, 10K, 16K, 20K, 30K, 40K, 63K/ 6Bar 10Bar 16Bar 25Bar 40Bar/BS4504 , BS4504, BS1560, BS10
Dimensions
ANSI B16.5, ANSI B16.47 Series A & B, MSS SP44, ASA, API-605, AWWA, Custom Drawings
Size Range (inches)
From ½" (15 NB) to 48″ (1200NB)
Forms
SORF, WNRF, BLRF, SWRF, LAP Joint, Threaded, Reducing, Spectacle
Connection Type
RTJ, Lap-Joint Face, Raised Face, Flat Face, Large Male-Female, Small Male-Female, Large, Tongue & Groove, Small Tongue & Groove
Face Type
Flat Face (FF), Raise Face (RF), Ring Joint (RJT)
ASTM A182 F11 Slip On Flange, Weld Neck Flange, Forged Flanges, WNR 1.7338 Blind Flange, RTJ Flange, Plate Flange, Chrome Moly A182 F11 SWRF Flange, WNRF Flange, Orifice Flange, Lap Joint Flange. Get best Price List.​
ASTM A182 Alloy Steel F11 Flanges
Types
If you are looking for ASTM A182 F11 Flanges types, weight chart, size chart, tolerance, and dimensions with drawings then kindly click the below-mentioned forms of pipe fittings as per your requirements to get the complete details. For the quick quote / price list click here.
Alloy Steel A182 F11 Flanges
Equivalent Grades
| STANDARD | UNS | WERKSTOFF NR. | Trade Name |
| --- | --- | --- | --- |
| Alloy Steel F11 | K11597 | 1.7338 | 1-1/4Cr-1/2Mo |
ASTM A182 F11 Flanges
Chemical Composition
| Grade | C | si | mn | s | P | Cr | Mo |
| --- | --- | --- | --- | --- | --- | --- | --- |
| Alloy Steel F11 | 0.15 max | 0.3-0.6 | 0.5 - 1 | 0.03 | 0.03 | 1 - 1.5 | 0.044 - 0.65 |
Alloy Steel ASTM A182 F11 Weld Neck Flange
Mechanical Properties
| Grade | Tensile Strength (MPa) min | Yield Strength 0.2% Proof (MPa) min | Elongation (% in 50mm) min |
| --- | --- | --- | --- |
| Alloy Steel F11 | 205 | 415 | 20 |
ASTM A182 F11 Threaded Flange
Weight Chart
Flange Weights by Pressure Class and Size
Pipe Size
150 #
300 #
600 #
900 #
1500 #
2500 #
WN
SO
BLD
WN
SO
BLD
WN
SO
BLD
WN
SO
BLD
WN
SO
BLD
WN
SO
BLD
1/2″
2
1
1
2
1
1
2
2
2
SEE 1500 # WEIGHTS
5
4
4
7
7
7
3/4″
2
2
2
3
3
3
4
3
3
SEE 1500 # WEIGHTS
6
5
6
8
8
8
1″
3
2
2
4
3
3
4
4
4
SEE 1500 # WEIGHTS
9
8
8
12
11
11
1 1/2″
4
3
3
7
6
6
8
7
8
SEE 1500 # WEIGHTS
13
12
13
25
22
23
2″
6
5
5
9
7
8
12
9
10
SEE 1500 # WEIGHTS
25
25
25
42
37
39
2 1/2″
8
7
7
12
10
12
18
13
15
SEE 1500 # WEIGHTS
36
36
35
52
55
56
3″
10
8
9
15
13
16
23
16
20
31
26
29
48
48
48
94
83
86
4″
15
13
17
25
22
27
42
37
41
53
53
54
73
73
73
145
125
130
5″
19
15
20
32
28
35
68
63
68
86
83
87
130
130
140
245
210
225
6″
24
19
26
42
39
50
81
80
86
110
110
115
165
165
160
380
325
345
8″
39
30
45
67
58
81
120
115
140
175
170
200
275
260
300
580
485
530
10″
52
43
70
91
81
124
190
170
230
260
245
290
455
435
510
1075
930
1025
12″
80
64
110
140
115
185
225
200
295
325
325
415
690
580
690
1525
1100
1300
14″
110
90
140
180
165
250
280
230
355
400
400
520
940
NA
975
NA
NA
NA
16″
140
98
180
250
190
295
390
330
495
495
425
600
1250
NA
1300
NA
NA
NA
18″
150
130
220
320
250
395
475
400
630
680
600
850
1625
NA
1750
NA
NA
NA
20″
180
165
285
400
315
505
590
510
810
830
730
1075
2050
NA
2225
NA
NA
NA
22″
225
185
355
465
370
640
720
590
1000
NA
NA
NA
NA
NA
NA
NA
NA
NA
24″
260
220
430
580
475
790
830
730
1250
1500
1400
2025
3325
NA
3625
NA
NA
NA
ASTM A182 Alloy Steel F11 Flanges
Dimenssional Tolerance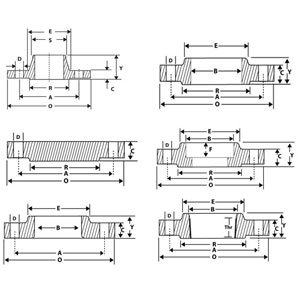 WELDING NECK FLANGES
0
Outside Diameter
When 0 is 24″or less
±0.06″
±1.6 mm
When O is over 24"
±0.12″
±3.2 mm
R
Diameter of Contact Face
0.06" (1.6 mm) raised face
±0.03″
±0.8 mm
0.25″ (6.4 mm) raised face
±0.02″
±0.5 mm
A
Diameter of Hub at Point of Welding
NPS 5 and smaller
+0.09″, -0.03″
+2.4 mm, -0.8 mm
NPS 6 and larger
+0.16″, -0.03″
+4.0 mm, -0.8 mm
B
Inside Diameter
NPS 10 and smaller
±0.03″
±0.8 mm
NPS 12 to 18, inclusive
±0.06″
±1.6 mm
NPS 20 and larger
+0.12″, -0.06"
+3.2 mm, -1.6 mm
X
Diameter of Hub at Base
When Hub Base is 24″ or less
±0.06″
±1.6 mm
When Hub Base is over 24″
±0.12″
±3.2 mm
c
Thickness
NPS 18 and smaller
+0.12″, -0.00″
+3.2 mm, -0.0 mm
NPS 20 and larger
+0.19″, -0.00″
+4.8 mm, -0.0 mm
Drilling
Bolt Circle Diameter
±0.06″
±1.6 mm
Bolt Hole Spacing
±0.03″
±0.8 mm
Eccentricity of Bolt Circle and Facing with Respect to Bore
NPS 21/2 and smaller
±0.03″
±0.8 mm
NPS 3 and larger
±0.06″
±1.6 mm
Length Through Hub
NPS 10 and smaller
±0.06″
±1.6 mm
NPS 12 and larger
±0.12″
±3.2 mm
SLIP-ON, LAP JOINT, SOCKET WELDING, THREADED AND BLIND FLANGES
O
Outside Diameter
When O is 24″ or less
When O is over 24″
±0.06″ ±0.12″
±1.6 mm
±3.2 mm
R
Diameter of Contact Face
0.06″ (1.6 mm) raised face 0.25″ (6.4 mm) raised face
±0.03″ ±0.02″
±0.8 mm
±0.5 mm
B
Inside Diameter at Face of Socket Welding Flanges

Inside Diameter of Slip-On, Lap Joint, and Socket Welding

NPS 10 and smaller
NPS 12 through 18, inclusive NPS 20 and larger
±0.03″ ±0.06″ +0.12″, -0.06″
±0.8 mm
±1.6 mm
+3.2 mm, -1.6 mm
NPS 10 and smaller
NPS 12 and larger
+0.03″, -0.00″ +0.06″, -0.00″
+0.8 mm, -0.0
+1.6 mm, -0.0 mm
Q
Counterbore, Threaded Flanges
NPS 10 and smaller
NPS 12 and larger
+0.03″, -0.00″ +0.06″, -0.00″
+0.8 mm, -0.0
+ 1.6 mm, -0.0 mm
X
Diameter of Hub at Base
NPS 12 and smaller
NPS 14 and larger
+0.09″, -0.06″ ±0.12″
+2.4 mm, -1.6
±3.2 mm
c
Thickness
NPS 18 and smaller
NPS 20 and larger
+0.12″, -0.00″ +0.19″, -0.00″
+3.2 mm, -0.0
+4.8 mm, -0.0 mm
Drilling
Bolt Circle Diameter Bolt Hole Spacing
±0.06″ ±0.03″
±1.6 mm
±0.8 mm
Eccentricity of Bolt Circle and Facing with Respect to Bore
NPS 2V2 and smaller
NPS 3 and larger
±0.03″ ±0.06″
±0.8 mm
±1.6 mm
Overall Length Through Hub
NPS 18 and smaller
NPS 20 and larger
+0.12", -0.03"
+0.19", -0.03"
+3.2 mm, -0.8 mm
+4.8 mm, -1.6 mm
ASTM A182 F11 Forged Flange
Applications
Myanmar, Nepal, Thailand, Vietnam, Philippines, Malaysia, Indonesia,
Singapore, Taiwan, Tasmania, Sri Lanka, Bangladesh, Bhutan, Cambodia,
Australia, New Zealand, Afghanistan, Tajikistan, Kyrgyzstan, Kazakhstan,
Uzbekistan, Turkmenistan, Iran, United Arab Emirates(UAE), Saudi Arabia,
Oman, Yemen, Iraq, Azerbaijan, Turkiye, Syria, Lebanon, Israel, Kenya,
Egypt, South Sudan, Eritrea, Djibouti, Ethiopia, Libya, Rwanda, Mali,
Niger, Chad, Central Africa Republic, Nigeria, Cameroon, Somalia, DRC,
Uganda, Tanzania, Angola, Zambia, Madagascar, Malawi, Namibia, Benin,
Zimbabwe, Botswana, Lesotho, South Africa, Algeria, Tunisia, Morocco,
Eswatini, Liberia, Sierra Leone, The Gambia, Senegal, Mozambique, Togo,
Mauritania, Burkina Faso, Ghana, Equatorial Guinea, Jordan, Timor-Leste,
Palestine, Laos, Armenia, Georgia, Maldives, Cyprus, Kuwait, Qatar, Peru,
Bahrain, Brunei, Finland, France, Germany, Ireland, Iceland, UK, US,
Greece, Hungary, Italy, Norway, Poland, Slovakia, Sweden, Canada, Fiji,
Romania, Cuba, Panama, Brazil, Colombia, Chile, Argentina, Venezuela,
Naypyidaw, Kathmandu, Bangkok, Hanoi, Manila, Kuala Lumpur, Jakarta, Tunis,
Jurong East, Taipei City, Hobart, Sri Jayawardenepura Kotte, Dhaka, Thimphu,
Phnom Penh, Canberra, Wellington, Kabul, Dushanbe, Bishkek, Astana, Abuja,
Tashkent, Ashgabat, Tehran, Abu Dhabi, Riyadh, Muscat, Sana'a, Baghdad, Pretoria,
Baku, Ankara, Damascus, Beirut, Jerusalem, Nairobi, Cairo, Juba, Asmara, Rabat,
Djibouti city, Addis Ababa, Tripoli, Kigali, Bamako, Niamey, N'Djamena, Bangui,
Yaoundé, Mogadishu, Kinshasa, Kampala, Dodoma, Luanda, Lusaka, Antananarivo,
Lilongwe, Windhoek, Porto-Novo, Harare, Gaborone, Maseru, Cape Town, Bloemfontein,
Algiers, Mbabane, Lobamba, Monrovia, Freetown, Banjul, Dakar, Maputo, Lomé, Dili,
Nouakchott, Ouagadougou, Accra, Malabo, Amman, Vientiane, Yerevan, Tbilisi, Rome,
Malé, Nicosia, Kuwait City, Doha, Lima, Manama, Bandar Seri Begawan, Paris,
Helsinki, Berlin, Dublin, Reykjavík, London, Washington D.C., Athens, Budapest,
Oslo, Warsaw, Bratislava, Stockholm, Ottawa, Suva, Bucharest, Havana, Panama City,
Brasília, Bogotá, Santiago, Buenos Aires, Caracas, Mumabi, Chennai, Bengaluru,
Kolkata, Hyderabad, Pune, Ahmedabad, Jaipur, Surat, Visakhapatnam, Indore, New Delhi
Lucknow, Nagpur, Kochi, Kanpur, Guwahati, Coimbatore, Noida, Ghaziabad, Patna